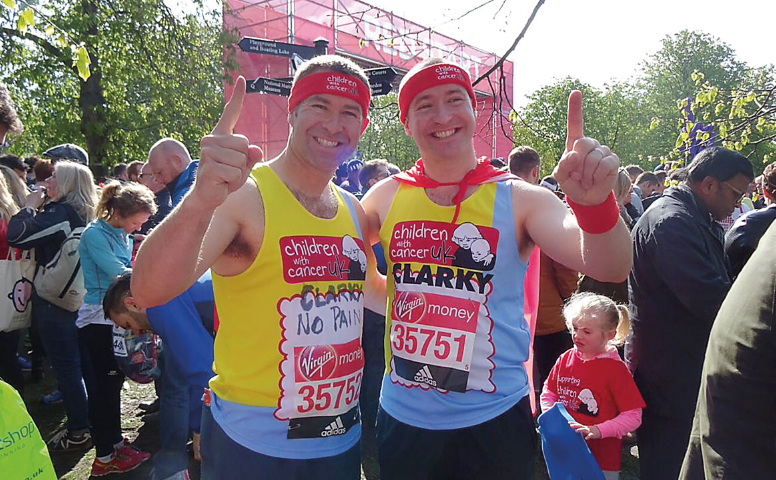 A North Shropshire College (NSC) lecturer proved he was a superhero by raising thousands of pounds for children who suffer from cancer by completing the London Marathon last Sunday, writes Billy Camden.
North Shropshire College sport lecturer Paul Clark has completed the mammoth 26.2 mile London marathon and helped raise nearly £4,000 for a cause close to his heart.
He was part of a sea of nearly 40,000 people who took part in the race on April 24.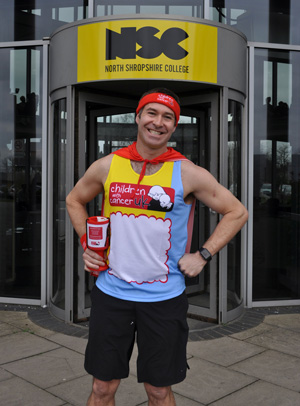 Mr Clark ran with his brother Mike, who works in a children's cancer unit in Liverpool, with both wearing superhero-style capes.
They raised almost £4,000 together for Children with Cancer.
"My brother has been witness to the pain and suffering children and families have gone through," said Paul.
"No parent should ever have to lose a child, especially to cancer, and that inspired us throughout the run."
This was the second marathon the brothers had completed together, "so we knew what we was letting ourselves in for", said Paul.
The pair started side-by-side at Greenwich Park and kept together for the first third of race, high-fiving spectators and "getting the crowd going" in their costumes, which they wore to symbolise their status as "superheroes" in the eyes of the children and families they raised money for.
But the pair, who wanted to cross the finish line arm-in-arm, were eventually split up when variables including restroom breaks and the sheer amount of runners separated them.
Paul explains: "You go through a number of different stages throughout the run.
"The first six miles is joy and excitement and elation and you're just involved with the crowd. After that you start paying more attention to your body as your legs start to ache.
"You notice little hotspots appearing, you ache, your breathing starts playing up and you get hot so you have to consider what to take on board to get through it.
"I wanted to stop around mile 18 because of the pain but you just have to keep going."
But he said the physical pain was all worth the emotional reward when he reached the famous finish line at the Mall.
"Your determination and effort is rewarded straight away because you touch the clock as you go through and you know you have been part of something ridiculously special.
"All the pain for about three seconds disappears and you've got loads of adrenaline and you're buzzing."
Mike finished 10 minutes ahead at a time of 3hrs 50mins, while Paul completed it dead on 4hrs.
This year was a special occasion for the London marathon as one lucky runner would have become the millionth finisher in the history of the race, which was first held in 1981.
Their identity will be revealed in May, and they will also enter the record books.
Whether he was the actual millionth runner or not, Paul said it was a "great achievement" to be classed as "one in a million".
He returned to college on the Monday just a day after the gruelling race and said the feeling was like "waking up still drunk".
NSC's principal, Jackie Doodson, said: "The college is really proud of Paul. It is a brilliant charity he's supporting and it is fantastic he finished dead on four hours. Well done Paul."
You can still donate to Paul and Mike's marathon effort by visiting: http://goo.gl/3TfHA9
Main pic: Superheroes Paul Clark (Left) and his brother Mike raise their fingers to show they are one in a million at the London marathon