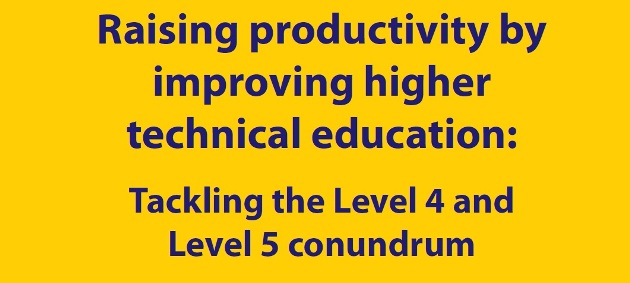 A report out today calls for a new system of accrediting "sub-degree technical education" in which FE colleges and independent learning providers can "design and deliver their own qualifications".
Dr Scott Kelly, in his report entitled Raising productivity by improving higher technical education: Tackling the level four and level five conundrum, said the new system should embrace existing "well-established brands such as Higher Nationals".
And providers, including accredited higher education institutions, would play a key role in design "if they can demonstrate sufficient rigour and industry engagement", according to Dr Kelly, who served as a policy adviser to former Skills Minister Jon Hayes from 2010 to 2012.
His 48-page report for the Higher Education Policy Institute (HEPI), in partnership with Pearson, was due to be launched at a Parliamentary event today with Shadow Education Minister for Young People John Woodcock.
Dr Kelly's proposals come in response to his assessment of the "detrimental impact on the British economy of a lack of advanced technical skills" in which "despite the genuine efforts of recent governments to increase the number of people studying for work-related qualifications at levels four and five, progress has been slow".
"The FE sector is ideally placed to play a larger role in the provision of technical and professional qualifications but expansion must be dependent on links to local employers and on teaching that combines pedagogical expertise with knowledge of current practice in the workplace," the report says.
It describes the current system of qualification design, validation and quality assurance as "complex" and claims that it "inhibits the development of short-cycle technical qualifications and also employer involvement in curriculum and programme design".
"Without more substantial reform, sub-degree provision will continue to sit uncomfortably in the divide between higher education and FE and the skills system, and a great number of agencies will continue to be involved, including the Quality Assurance Agency, Higher Education Funding Council for England [HEFCE], the Skills Funding Agency, professional bodies, Ofqual and Ofsted," the report says.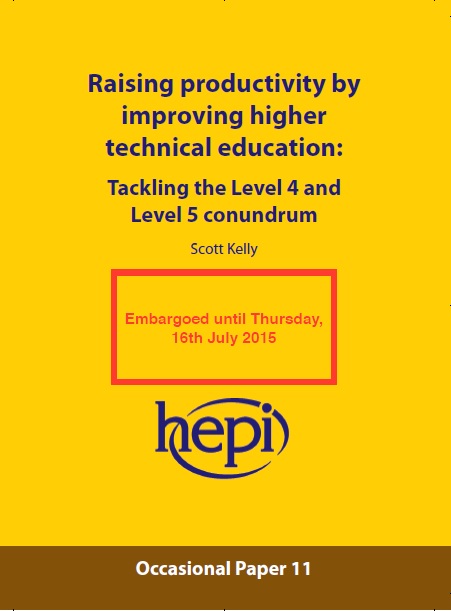 "While universities have well-developed and relatively sophisticated systems for developing and validating new degree-level awards, these processes are not well suited to short-cycle technical education.
"The model is rooted in traditional academic disciplines and involves long validation procedures that can be slow to respond to changing business needs."
Dr Kelly proposes a "clear distinction between work-oriented qualifications linked to specific job roles and qualifications primarily intended as stepping-stones to first degrees". The former, he argues, should be accredited and funded by a new body, while the latter should remain the responsibility of HEFCE.
He outlines the necessary features of a better system as including a well-defined set of institutions with a core mission based around technical and professional qualifications.
Hi report also says employers are alienated by overlapping, ad hoc and piecemeal initiatives to fund and accredit work-related education but they do want a formal role in determining the content of qualifications and a stable policy.
Dr Kelly further looks at teaching and argues that "if FE in England is to play a leading role in the delivery of technical and professional qualifications at sub first-degree level, consideration needs to be given to the standards of teaching and the paucity of links to practice in the workplace".
He said: "A concerted policy effort is needed to provide a clear path to high-levels skills. Funding should prioritise the pressing needs of businesses and learners rather than always being directed at yet more undergraduate places and lower-level apprenticeships.
"A new funding mechanism, supported by employers, would give technical and professional education a strong voice in the education system — as in other countries — for the first time."
David Corke, director of education and skills policy at the Association of Colleges (AoC), said: "FE colleges are well placed to address the shortage of higher level skills and they are already providing good-quality technical and professional education and training.
"We are supportive of Dr Kelly's report which highlights the value of 'short cycle' qualifications which can and are helping fill the nation's skills shortages.
"Colleges are already offering 3m students with valuable employability skills, helping to develop their career opportunities and strengthen the local, regional and national economy."