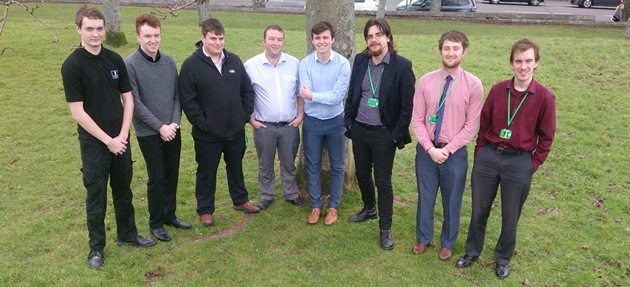 This week learners from up and down the country are battling to be crowned apprentice team of the year in the fourth annual Brathay Apprenticeship Challenge final.
The eight teams of nine apprentices have been whittled down from more than 800 entrants to earn a place on the finale on Lake Windermere in the Lake District, where they have been taking part in teambuilding activities such as orienteering, high ropes and boat racing, since Monday.
And the eight teams will be hoping to make a splash in the last leg of the grand finale, the whaler boat race, and the prize giving ceremony, which takes place tomorrow.
To get there, the teams — made up of apprentices from the same employer, group of small businesses, industry, supply chain or provider — completed fundraising projects in their community with the top performers making it through.
This year the eight teams to have made it through to the final of the competition organised by youth charity Brathay and the National Apprenticeship Service (NAS) are teams from Redrow Homes, Nottingham City Homes, Sellafield power plant, Pera Training, Dale Power Solutions, Plymouth City Council, HSBC and British Airways.
NAS director Sue Husband said: "The challenge gives apprentices a chance to show not just their employers but the wider community the high ambitions and achievements that apprentices have when they are given the chance.
"Enhanced apprenticeships experiences such as the Brathay Apprentice Challenge benefit both employers and apprentices, giving employers a workforce with transferable skills and apprentices the chance to develop skills and experiences that will move them forward in their career."
In last year's competition, when a team from PepsiCo emerged victorious, apprentices managed to raise more than £30,000 for charity, conduct more than 360 school visits to talk about the benefits of apprenticeships and recruit 50 new businesses to offer apprenticeships.
Godfrey Owen, chief executive of Brathay Trust said the community projects test learners' "leadership, communication and team building skills and these skills are not something that are always tested purely in the workplace".
He added: "While the teams build these skills they are also teaching other young people about apprenticeships and showing both employers and students that an apprenticeship is a valued career path."
Main pic above, from left: Plymouth City Council apprentices Steven Bryant, aged 20, customer services (facilities management), Jacob Ellis, 20, marketing, team captain Lee Bond, 25, Nick Tomlinson, 27, both project management, Jake Holmes, 19, level three business administration, John Horler, 25, Lewis Walsh, 24, Joseph Gore, 24, all three project management, and (not pictured) Tommy Clift, 19, business administration