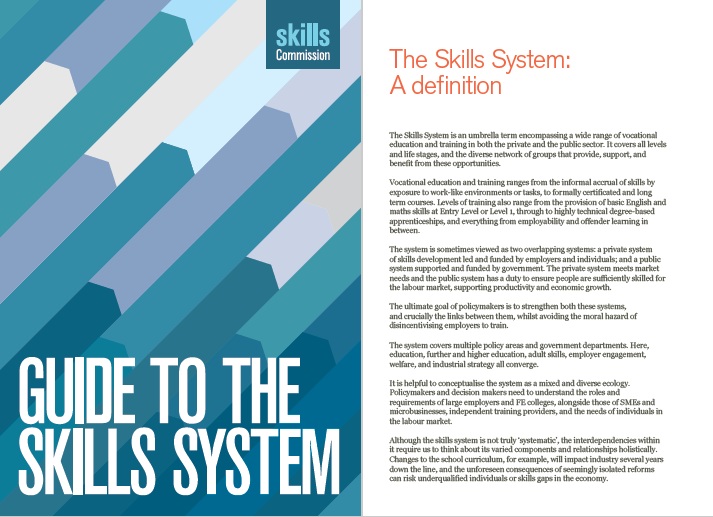 A comprehensive new guide to vocational education and training geared at improving the level of understanding of the skills system among policy makers will be unveiled in the House of Lords today.
The Guide to the Skills System publication comes from the Skills Commission, an independent group of leading experts and opinion formers from across the education and skills sector.
It will be officially launched in the House of Lords at 12.30pm to more than 140 guests, with speakers including Anne-Marie Morris MP, Parliamentary Private Secretary to Skills Minister Nick Boles, and John Woodcock, Shadow Education Minister for Young People.
Co-chairs of the Skills Commission, Labour MP and former Children, Schools and Families House of Commons Select Committee chair Barry Sheerman (left), and FE Trust for Leadership honorary president Dame Ruth Silver (below right) said in the report: "It has often been said that the skills system is not fully understood by policymakers.
"Whether this is a fair notion or not, it is with this sentiment in mind, and our conviction of the central importance of skills to our nation, that we have produced this guide.
"In this guide we aim to demystify this policy area and help to overcome some of the initial barriers policymakers can face in conceptualising the skills system."
The guide, which is aimed at parliamentarians and their researchers, as well as the wider policymaking community, covers key areas including the public funding system, the role of employers, and the devolvement of responsibilities for skills across the UK.
It  has spelled out six key messages, including the need to adopt greater systems thinking and boost employer engagement.
It also called for improvements to the "quality and confidence" of training and providers respectively, a smoother overall policy process, and calls for the provision of "stability in the system" and "fair and sustainable funding".
The report said: "Parliamentarians should take heed of the calls from employers, practitioners and FE and skills experts for greater stability in the sector.
"FE and skills is the adaptive layer of the education system, yet many feel that the agility of providers and awarding bodies is undermined by frequent policy and procedural change."
It added: "Policy must be fully evaluated to build on successes and avoid repeating past mistakes."
The report also called for "improved careers advice" and investment in "high quality vocational programmes (Level 4+)".
It added that policymakers "must better define" how they expect different types of employers to engage with the skills system.
It said: "The last Parliament saw much progress with measures taken to raise the status of vocational and technical qualifications, and to strengthen paths of progression into work and the study of higher level skills.
"In order for us to build a world class system, we need to fully appreciate the interconnectedness and interdependencies of the skills system, and think strategically about the relationship between its seemingly disparate components."
Commenting on the report, David Russell, chief executive of the Education and Training Foundation, said: "I hope the guide will be useful and will arm parliamentarians with the knowledge they need to make vital decisions.
"We look forward to working with the government in the next five years, and to help them to make a real difference to everyone involved in the FE sector."
Dr Lynne Sedgmore (above), executive director of the 157 Group, said: "The guide describes a system which has the key ingredients to deliver world-class provision, and it demonstrates how colleges and other providers are already driving real change, with a focus on local needs and higher-level skills.
"Over the next five years we must take proper stock of what is working well and push forward with policies which we know can deliver high-quality education and training for all."
Charlotte Bosworth, director of skills and employment at OCR, said: "More than 50 per cent of 16-18 year-olds in education and training take vocational and technical training programmes.
"Young people need stability and security but policy churn and lack of investment is having a detrimental impact on them. This guide is a step in the right direction to help policy makers provide some of that stability."