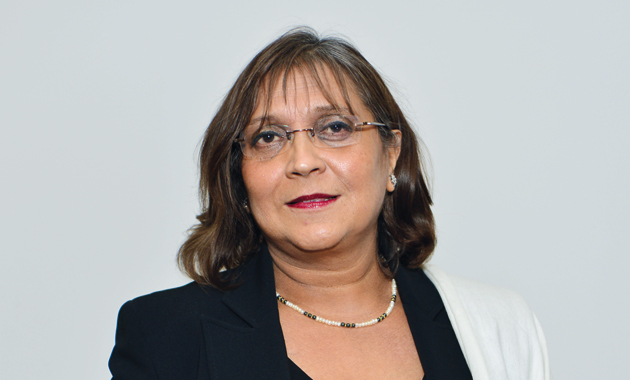 College leaders have been urged to make the promotion of black, Asian and minority ethnic (BAME) principals a "priority" with their numbers having fallen nearly 30 per cent in three years.
Network for Black and Asian Professionals (NBAP) chief executive Rajinder Mann (pictured) made the plea as she said BAME principals at FE colleges had gone from 17 in 2012/13 to just a dozen. She further warned the sector was wrong to think it had "done enough" to increase the number of BAME governors in FE after a survey showed — despite minor improvement — that college boards were still dominated by white, middle aged men.
The Association of Colleges (AoC) survey four months ago found that 86 per cent of college governors were white British (down from 88 per cent in the 2013 survey). Meanwhile, 60 per cent were found to be male (compared to 62 per cent in 2013) and 55 per cent were aged 45 to 64 (compared to 60 per cent in 2013).
Ms Mann said: "I think the sector thinks it has done enough for BAME representation, yet with the decline of black principals and the changing demographics, the sector should be making this a priority area."
A spokesperson for the Department for Business, Innovation and Skills said it was "up to individual FE colleges to decide how they appoint their board".
However, Ms Mann's comments have nevertheless won the support of West Nottinghamshire College principal Dame Asha Khemka, who said: "It is a great shame because we saw an encouraging increase in the number of BAME principals in 2012/13, but that tailed off. The number of BAME governors also needs to rise."
Ms Mann claimed the fall in the number of BAME principals was "directly attributable" to a drop in public funding for the Black Leadership Initiative (BLI) courses, run by the NBAP, geared towards helping more BAME FE staff to become senior managers and principals. She said: "The BLI was set up with £650,000 for courses through an 18-month pilot in 2002 funded by the Learning and Skills Council. Although funding has declined over the years it remained a sector priority up until 2012/13. It is now down to the Education and Training Foundation (ETF) to provide funding and we received £34,000 for the last financial year to run the BLI provision plus £15k to raise awareness and attract BAME governors. We haven't received anything since then."
David Russell, ETF chief executive, said: "We think the make-up of FE college boards is a very important issue, and that progress is too slow. The AoC survey was funded by the ETF and was part of our governance development programme."
An ETF spokesperson said it had given NBAP "£15k as part of AoC governance contract (in 2014), £105k for mentoring and development programme (in 2014) [to encourage BAME FE staff to apply for senior posts] and £34k for mentoring and development programme (in 2015)."
The most recent Census of England and Wales, in 2011, showed that 80 per cent of the population listed itself as white British.
Locally, figures for the white population range from 95.4 per cent in the South West to 59.8 per cent in London. The Census also showed that just 25.4 per cent of the population was from the 45 to 64 age group.
Ms Mann said "targets", but not compulsory quotas, should be agreed for college boards to represent local demographics. "The government should lead on BAME governor recruitment with a similar approach to the [2011] Lord Davies report for women on boards," she said. The report by Lord Davies, which was commissioned by former Business Secretary Vince Cable, set a target of a minimum of 25 per cent female representation by FTSE 100 boards by 2015. The proportion on women on FTSE 100 increased from 12.5 per cent in 2010 to 23.5 per cent by March this year.
A spokesperson for the Women's Leadership Network (WLN) said "the issue of women's representations on college boards is important" and there had been "some slow progress".
There was a 60 per cent response rate for the 2015 survey and the resulting report said its "results cover nearly 200 English FE colleges [out of 335 colleges in England]".
Dr Sue Pember, governance review adviser for the AoC, said: "Colleges have a very diverse population and it is important that governing bodies represent the needs and interests of all students. The AoC Governors' Council and ETF see this as priority and have funded both the WLN and NBAP to produce guidance on this matter."
---
Editor's comment
Equality of issues
Colleges have got plenty to worry about as it is.
The extent to which funding will dry up even further is an issue that should be clarified with tomorrow's (July 8) Budget.
Greater engagement with employers is the way forward, colleges are told as they place all their eggs in the apprenticeship basket to survive.
Meanwhile, rationalisation of college estates/workforces is an easy and often the most fruit-bearing financial option in the short-term (providing principals can survive the storms that ensue).
These are all undeniably serious and immediate concerns, but they should not mean that all focus on social issues of racial and sexual equality is lost.
It is often said that FE and skills is blessed with a high degree of social conscience thanks not least to its second chance sector reputation.
Indeed, the idea of colleges needing a poke about racial and gender make-up seems to be a case of preaching to the converted.
So Rajinder Mann's call for the promotion of black, Asian and minority ethnic principals to be made a "priority area" is a timely reminder that life goes on despite our funding worries.
Let's just hope Chancellor George Osborne will fund it adequately so it can still be around in five years' time to be a leading light in BAME issues.
Chris Henwood
chris.henwood@feweek.co.uk