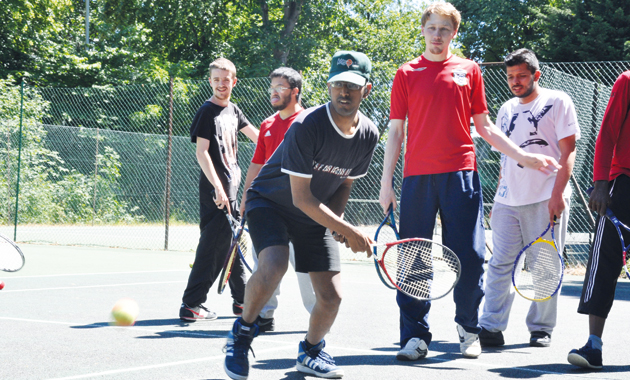 A registered deafblind learner is turning heads at Waltham Forest College by showing a remarkable talent for playing tennis, writes Billy Camden.
As Andy Murray takes to the courts for this year's Wimbledon, just 25 miles down the road Michael-Angelo Gomes is impressing with tennis skills of his own at Waltham Forest College.
The 24-year-old learner was registered deaf and blind from birth but has discovered his "astonishing" talent after taking up the racquet as part of a programme for students on foundation learning courses.
He said: "I can see the ball a little — just enough. I love tennis and I really enjoy playing. I'm a big fan of Andy Murray."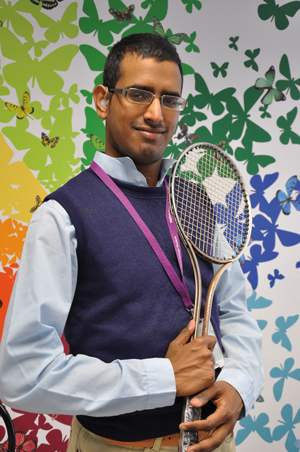 Studying preparation for work, work skills E3 and Edexcel award in work skills E3, Michael-Angelo is one of 30 students with learning difficulties being taught at Aldersbrook Tennis Club, in Wanstead, London.
Being completely blind in one eye and partially blind in the other, his tutors doubted he would have enough vision to be able to play.
But by showing determination and focus, Michael-Angelo proved any doubters wrong and was soon hitting tennis balls with precision and skill.
His course lecturer Barbara Akkaya said: "He wants to take part in everything and we wanted him to try. We are astonished at how well he has adapted to the game."
Aldersbrook's tennis coach Phil Vivian had considered importing specialist tennis balls from Japan to enable Michael-Angelo to take part.
"But there was no need," he said. "It was clear right from the very first session that he would be able to cope. I am delighted with the progress he is making."
Michael-Angelo uses a specially-designed hearing aid which means he can hear some sound. Until recently he communicated only through signing but has now begun to use speech.
And the tennis lessons have had a knock-on effect on Michael-Angelo's personal progress.
"He is talking more and joining in more," said his class teacher Aimee Ayres.
"Before he would not want to talk and would prefer to sign. Now he is using more verbal communication with us and his peers.
"It is a confidence thing. He feels he can do things. He is using the same equipment and following the same instructions as the others and feels he is no different to them when he is on court."
His one-to-one tutor, Frank Royle, added: "He has very limited socialisation outside of college and little opportunity for physical exercise. Yet he is keen to do any sort of sport."
It is the second summer the club has taught tennis to students from the college who have a range of learning difficulties including down's syndrome, autism, dyslexia and dyspraxia.
Teaching assistant Joe McMaster said: "This tennis programme is so good for our students because they follow instructions. It builds their confidence for activities outside the college.
"For many students this is the only exercise they get. They learn a new skill and at the same time develop their communication, teamwork and listening skills."
During the 11-week programme the learners are set a series of tennis drills designed to improve their coordination, agility, technical movement and
general fitness.
Main pic: Michael-Angelo takes to the court at Aldersbrook Tennis Club