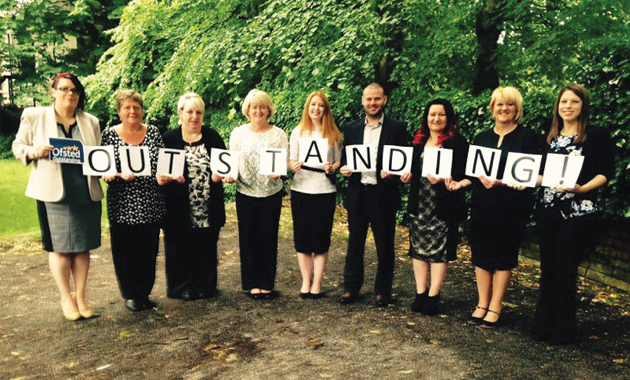 The managing director of a family-run Nottingham-based provider that shot up two Ofsted ratings to outstanding in just 16 months has revealed to FE Week how the company achieved its dramatic turnaround.
Charlotte Moreland, believed to be one of the youngest ever managing directors to achieve an outstanding Ofsted rating at the age of 27, said she was "over the moon" with the result for NHTA (Nottingham Hairdressing Training Agency) , which provides hairdressing and barbering apprenticeships.
The independent learning provider (ILP) had last been visited by Ofsted in February last year, getting grade three ratings for all but quality of teaching, learning and assessment in which it was rated as good. Its previous inspection, in December 2011, had also resulted in a grade three rating.
But it was rated outstanding across all headline areas and was praised for learners' "excellent progress" by inspectors, who examined the provider in May and reported back last week.
"I am over the moon about this fantastic result," said Ms Moreland, who took over as managing director in 2013 when her father, David, stepped down from the role to chair the company.
"I am very proud NHTA will be added to the very small list of providers or colleges in the country with such an accolade."
"This is a testament to the support and commitment we receive from all our employers and learners and is a phenomenal result and reflection on the whole NHTA community."
Ofsted had told the company last year it required improvement because "too few apprentices achieve their intended qualifications".
But Ms Moreland, who said she believed she was among the youngest managing directors to achieve a grade one Ofsted result, said the 100-learner ILP's transformation was the "result of a five-year investment and strategy".
In 2010 — three years after Mr Moreland bought the company — it was branded inadequate, before moving up to grade three (then satisfactory) the following year.
But it now has apprentices in more than 60 salons across Nottingham, Chesterfield, Mansfield, Newark, Loughborough, Derbyshire and surrounding areas, and she said the 2010 grade four result had been "the platform" she and her father needed "to change the culture, the ethos and the brand identity".
"We began sculpting a highly effective senior management team which has been crucial in supporting and monitoring all the changes," she said.
"We also employed a quality consultant who was also an associate inspector for Ofsted, Elaine White, and instigated yearly 'health checks'  — effectively a mini Ofsted — using external consultants to inform our self-assessment report and naturally our quality improvement planning, which is a whole company approach.
"This ensured all the team remained accountable, knowledgeable and committed to the direction of travel of NHTA and also aware of the data impact of each individual tutor on the data and retention statistics."
Ms Moreland said data had been "key" to improvement at the ILP, which as of April had a Skills Funding Agency allocation of £760k.
"We produce very detailed quarterly data packs on everything that moves to identify any issues early on," she said.
"Our retention and success rates have remained high due to a very effective cause for concern register, which any staff member, from tutors to admin staff and even myself, can add a learner to if something we've seen or heard causes concern which requires monitoring.
"We are very proud to say learners really are the centre of everything we do and all staff have an excellent knowledge of every learner in our provision.
"We have a highly effective teaching, learning and assessment strategy which supports and develops staff when needed supported by learning walks to ensure our standards remain consistently high."
Ms Moreland said up to 65 per cent of the company's learners arrive without a GCSE A to C or equivalent in English and maths.
"We strongly believe all young people should be given the opportunity to do an apprenticeship and we support our learners to have a second chance at English and maths while learning their vocational skill too," she said.
"Vocational learning is about building skills for young people's future not about closing the door when they need support or guidance the most.
"Our employers consistently engage and support these young people and we have an active employers group we call the Associate Members group who attend a meeting twice a year and steer the organisation to ensure we are giving the employers the best service we can too."
Pictured, from left: Emma Musgrove, tutor, Elaine Hines, admin supervisor, Joanna Thompson, desgnated safeguarding person/health and safety officer, Stephanie Abbott, operations manager, Charlotte Moreland, managing director, Shaun Cobb, admin manager, Leanne Willis, tutor, Stephanie Hadrill, quality team leader, and Gemma Little, admin, HR and data coordinator