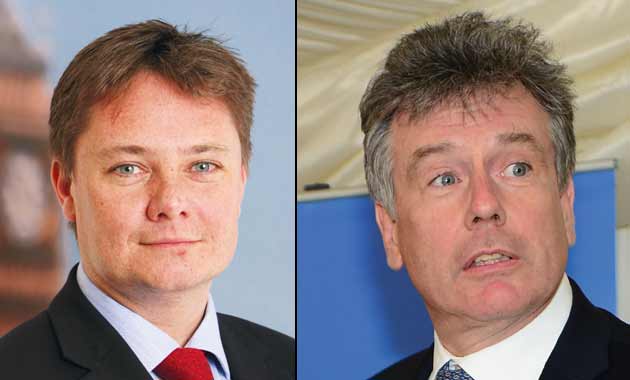 Newly-elected Business, Innovation and Skills (BIS) Select Committee chair Iain Wright has outlined his plans for greater collaboration with education's fellow newly-elected committee chair Neil Carmichael.
Labour MP Mr Wright (pictured above left), who beat former BIS committee chair Adrian Bailey in the MPs' vote on Wednesday (June 17), said he was "determined to hit the ground running".
He said greater working with Conservative MP Mr Carmichael (pictured above right), who beat Tim Loughton, was one of his priorities.
"I am determined to hit the ground running and make the BIS select committee a real driving force in scrutinising government policies, championing business and skills and making sure FE has a really big voice," Mr Wright told FE Week.
He added: "I'm particularly pleased about Neil's election because one of the pitches I made, and we worked together on this, is that I'm very conscious that actually, despite the best efforts of business and education, often it is really difficult to make sure skills policy is closely aligned and co-ordinated between education and business as it should be.
"We have pledged to work very closely together on joint enquiries about the skills system, about how education works together with business, and also, the big thing economically with this parliament will be productivity. So we are going to be doing an awful lot together."
Mr Carmichael said: "One thing I am going to be doing very soon is discuss with Iain our proposal of doing a joint report on dealing with productivity gap. We have already discussed this on the assumption that we both would win, we actually talked about it a week or so ago."
Martin Doel, chief executive of the Association of Colleges (AoC), congratulated the duo, saying they would "make excellent chairs and hold government to account very effectively".
"We have worked with them both in the past and, through their close relationships with their local colleges, they have an excellent understanding of the challenges and opportunities further education and sixth form colleges will have in the next few years," said Mr Doel.
"We strongly support the notion — as set out by Iain and Neil — about the importance of joint working between their committees especially as the work of colleges crosses both. We look forward to meeting them in their new capacities to discuss how colleges can help."
A spokesperson for the Association of Employment and Learning Providers said: "It's encouraging the BIS committee will be chaired by a former minister with direct responsibility for apprenticeships and we look forward to working with Mr Wright.
"As a member of the Education committee in the last Parliament, Mr Carmichael is already aware of the importance of issues such as improving careers advice in schools and we hope he maintains vigilance on these."