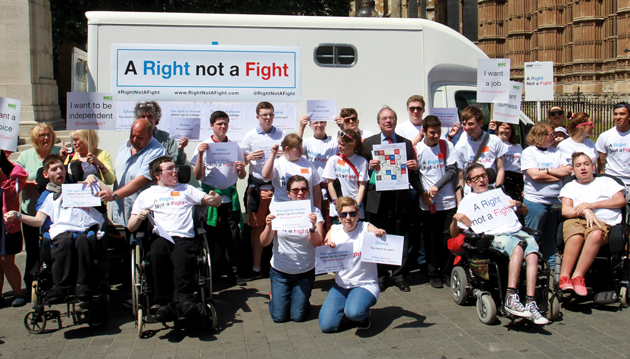 Young people with learning and physical disabilities and their families gathered outside the Houses of Parliament to demand the right to choose an FE college that best suits their needs.
They brandished banners and wore T-shirts emblazoned with the "Right Not a Fight" slogan of a nationwide campaign being waged by the Association of National Specialist Colleges (Natspec).
It took place on Thursday (June 18) — two days after the University and College Union led a protest at Westminster against FE funding cuts.
The Natspec campaign was launched a year ago, just before the introduction of The Children & Families Act that promised greater choice to suitable colleges.
The special educational needs and disability code of practice also says that "the aspirations for children and young people will be raised through an increased focus on life outcomes, including employment and greater independence".'
But a Natspec spokesperson said: "There's a growing void between the act, the code and reality.
"Young people and their families were highlighting issues about the number of hurdles they have to jump to get into to the college they wish to attend — the lack of impartial information, advice and guidance, the endless assessments with people who often have very little understanding of their needs, and delays throughout the system."
A survey, carried out this year by National Star College for people with physical and learning disabilities, in Cheltenham, found that out of more than 1,600 families questioned, 80 per cent had only been given information on options run by their local authority.
Meanwhile, 30 per cent had been actively stopped or discouraged from finding out about other options and 87 per cent said they had no idea how local authorities were making decisions about their child's future.
Kathryn Rudd, principal of National Star College and chair of the Association of National Specialist Colleges, said: "Young people don't believe they should have to fight for months to get into the college that best meets their needs and ambition."
 Main photo: Carl Hewlett/TWM