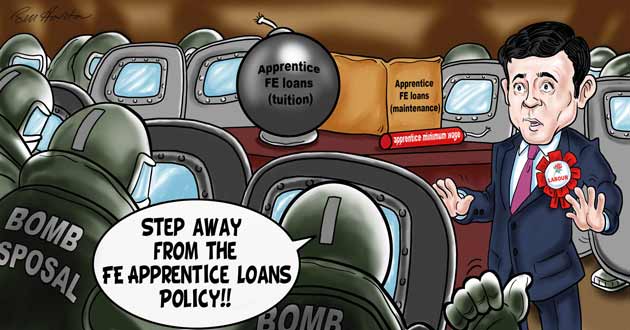 Labour leadership contender Andy Burnham sparked an alarmed response on Twitter after his comments on apprenticeship loans led to fears he was considering proposals to bring back a failed FE policy.
Former Business Secretary Dr Vince Cable revealed to FE Week exclusively in December 2013 that apprentice FE tuition loans would be scrapped after just 404 applications in around seven months.
However, last week Mr Burnham, one of five Labour MPs hoping to become the next party leader, told Sky News: "In our school system we focus too much on the academic but don't give all children realistic prospects for when they leave.
"I'm talking of extending the loan scheme that students currently get to apprentices."
Among those to respond to the comments via Twitter was Shane Chowen, head of policy and public affairs at the National Institute of Adult Continuing Education.
He tweeted: "Coalition tried in and apprenticeship numbers went down. No appetite for it."
He later added: "AB [Andy Burnham] would be better off coming up with ideas how to get more employers involved — that's the problem right now."
Mr Burnham's office did not respond to requests to comment and give details of his proposals.
However, Sky reporter Sophy Ridge told FE Week the MP for Leigh had been referring to maintenance loans rather than tuition fee loans.
It led the National Union of Students (NUS) to call for a higher minimum wage for apprentices to avoid the need for maintenance loans.
Joe Vinson, NUS vice president for FE, said he wanted a "serious debate" over the minimum wage for apprentices, which is currently £2.73 per hour but will rise to £3.30 an hour from October.
He said: "Raising the minimum wage for apprentices to fall in line with the national minimum wage is a much more sustainable option that does not saddle young learners with the worry of repaying huge loans at the start of their careers.
"Currently apprentices and their families are also prevented from accessing benefits available to others, including child benefit and child tax credit, care to learn grants, interest free overdrafts and discounted travel cards.
"NUS has been campaigning for a serious debate to happen over the state of support for apprentices, one that will lead to a commitment to removing the financial barriers which currently exist."
But David Hughes, chief executive of the National Institute of Adult Continuing Education (Niace), said he supported such an extension of loans, although he echoed Mr Vinson's concerns about the lack of a "decent wage" for some apprentices.
He said: "For too many young people this means that they cannot afford to do an apprenticeship because housing and living costs are prohibitive, unless they can continue to live at home."