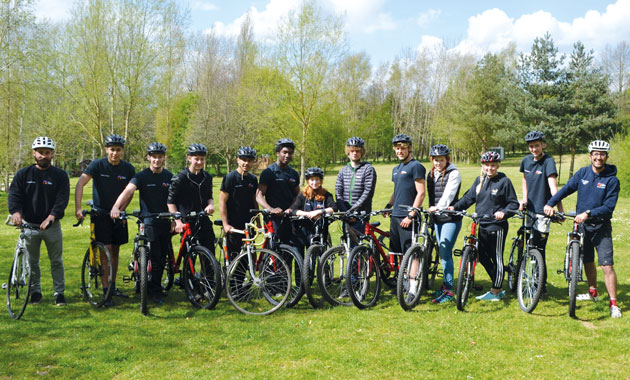 Outdoor adventure students from City College Norwich (CCN) pushed themselves to the limit in a farewell to FE expedition, writes Billy Camden.
Seeking to end their time at CCN on a high, 13 learners studying an outdoor adventure course completed the 'Summit to Sea' challenge, climbing more than 3,300ft to the summit of Mount Snowdon before cycling 377 miles back to Lowestoft.
The gruelling test was set and planned by the level three students to complete the expedition component of their studies.
Setting out from Norwich, day one saw the outdoor enthusiasts hike to the top of Mount Snowdon and then back down in around six hours.
The group then set up their tents at a local camp site, before taking on five days of demanding cycling.
"The fourth day was probably the hardest," said 18-year-old Henry Periam.
The team had to ride through the marshes of The Fens while struggling against an easterly headwind of about 30 to 40 mph, in "bitterly cold" conditions for 80 miles
"It was more mentally tough than physical," said Henry.
"We would all get excited when there was a corner to block a bit of the weather out but no one moaned, we all just put our heads down and got on with it."
Harriet Hicks, 18, said: "The adrenaline was pushing me on and made me get through it.
"The physical side was hard but what spurred us on was having all of our friends there to encourage us to go that extra mile."
Course leader Adam Williams, who also took part in the challenge, said: "With the calibre of students that we had this year we thought we would do something a little bit special."
He said the expedition was particularly impressive because the students — who live in Norwich — were used to terrain "as flat as a pancake".
"For a group of students from Norfolk to complete this task at the most mountainous place in the country was definitely an eye-opener."
He also hailed his students' representation of their age group.
"It was the best I have ever seen a group of teenagers before. Everyone says that this generation are lazy, this, that, and the other, but this group proved that theory completely wrong," he said.
"No one quibbled of anything, they just got on with the task in hand and saw it as a challenge that they were going to overcome as opposed to moaning about it."
And the moment the team arrived back in Norwich was one to be remembered
for all.
"Riding into Lowestoft with a group of students who had just completed something massive got me a little bit emotional," said Mr Williams.
"It was the first time in my career as a teacher that I felt like I could cry."
Main pic: The team of outdoor adventure learners from CCN prepare to take on the 'Summit to Sea' challenge
Pictured, from left: sports activities supervisor Phil Barnard, learners Anthony Iacovazzo, aged 17, Braden Kiddell, 18, Rory Townsend, 17, Louie Seago, 18, Mo Douglas, Ariella Watson, both 19, Henry Periam, 18, Kamil Goldyn, 19, Harriet Hicks, Emma Catling, Joe Chandler, all three 18, and outdoor adventure course leader Adam Williams. Not pictured are learners Sean Brammall, 20, and Dalton Stuart, 18