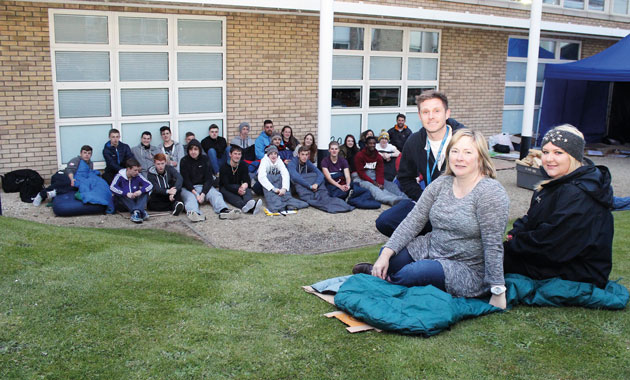 South Yorkshire college learners and staff raised more than £1,000 for charity by spending a night sleeping rough on campus grounds.
The team of 40 from Dearne Valley College did the 'sleep out' last month to raise funds and awareness for Safe@Last, a charity that works with young homeless people.
The sponsored volunteers had just cardboard, clothing and sleeping bags, as well as hot water and soups to keep them warm during the night.
Sports tutor and event organiser John Lund said: "It is important that our
students understand that homelessness is a real problem, and one which some individuals at their age are facing for a variety of reasons."
The college rough sleepers were visited by staff from the Safe@Last charity who spoke about the work they carry out and the importance of fundraising events.
Main pic: Dearne Valley College staff and students try to get comfy for a night of sleeping rough on campus grounds