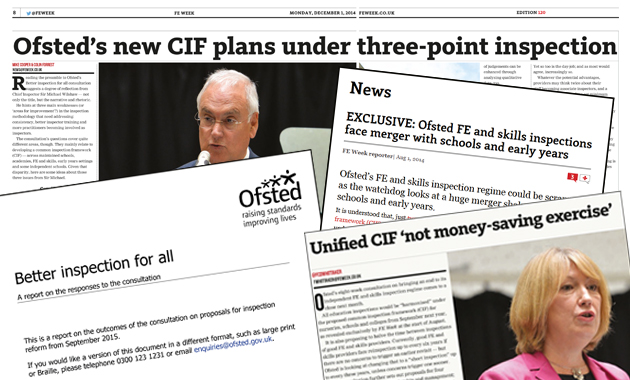 Ofsted's decision to scrap graded lesson observations for FE inspections has been described as the "right way to go" by Principals' Professional Council (PPC) chair Sue Rimmer.
A spokesperson for the education watchdog said on Friday (May 22) that it had consulted with FE providers and "conducted numerous pilot inspections to test the changes" before deciding to go ahead with the change from September.
Ms Rimmer, principal of South Thames College and PPC chair since January, told FE Week she previously used graded lesson observations for internal reviews, but she had "conducted a number of forums with some of our grade one teachers to gain their views of the usefulness of scheme and, having reflected on their feedback and other information, I decided to suspend graded lesson observations [from the start of 2014/15]".
Ms Rimmer said graded lesson observations were not "a reliable measure of the daily learning experience of our students".
"I believe that stopping graded lessons observations is the right way to go as they have lost their credibility," she said.
But she added that she would still "want to be re-assured that there was transparency and validity around judgements made and a robust evidence base otherwise there is a danger that it will become a guessing game".
The Ofsted decision, also backed by the Association of Employment and Learning Providers, comes after a University and College Union report published last June, called Developing a National Framework for the Effective Use of Lesson Observation in FE, raised "serious questions about the fitness for purpose of prevailing observation assessment systems in FE".
A report in FE Week in the same month revealed that the education watchdog would be piloting inspections with no grading of teaching in individual FE sessions during 2014/15.
It followed the announcement on Twitter by Ofsted's FE and skills director Lorna Fitzjohn that graded lesson observations could be ending.
It sparked a debate across the sector and Gill Clipson, deputy chief executive of the Association of Colleges, told FE Week on Tuesday (May 26) that views still "differ around the value of grading observed lessons separately".
She added: "There is a need for Ofsted inspectors to give clear feedback to individual teachers about the strengths demonstrated during the lesson as well as areas where improvements can be made."
The Ofsted spokesperson said: "This change will be reflected in Ofsted's new handbook for the inspection of FE and skills, which we will publish before the end of the summer term."