Government reviews FE scrutiny info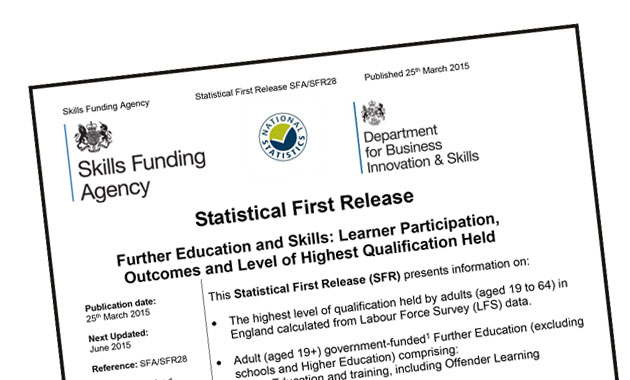 The Department for Business Innovation and Skills (BIS) has launched a review of the data it publishes on FE and skills every quarter that allows government to be held to account for its policies.
A consultation on the Statistical First Release (SFR) —information on 19-plus government-funded FE programmes in England — is underway until the end of the month.
The six-page questionnaire, available online, asks providers which data from the SFR they use and what they use it for, whether there is anything not reported in the SFR or supplementary tables they would like to see and what other improvements they think could be made.
A BIS spokesperson said the aim of the survey was to ensure the SFR, which FE Week regularly uses to track the number of apprenticeship and traineeship starts, was as useful as possible for the sector. The review comes with a new ministerial duty to report on apprenticeship numbers having been listed in the Queen's Speech.
Sector bodies have shared their thoughts on the SFR with FE Week, and key among the changes they wanted to see was a more detailed breakdown of some of the key statistics.
A spokesperson for the Association of Employment and Learning Providers told FE Week: "It would be good to see more detail in the Employer Ownership Pilot section such as the number of apprenticeship starts within it and an age breakdown. The loans section could benefit from a sector breakdown and similarly the traineeships data could do with some more detail."
The aim of publishing the SFR, according to the BIS website, is to present the performance of the FE system, as well as allowing users to assess the impact of government-funded provision and to hold the government to account over delivery of policy.
A spokesperson for the University and College Union (UCU) said: "SFRs provide a useful insight into the number of people learning at different ages and stages.
"We would like to see the data for age, participation and achievement linked more closely, particularly for apprenticeships.
"Currently starts and achievements are usually presented separately, making it difficult to determine success rates for different types of qualifications. Also, the data could usefully be broken down by sector so that we can clearly see where different areas are in growth or decline.
"Ideally, the SFR data would be linked with the Labour Force Survey or the Annual Survey of Hours and Earnings so that we are better able to track learners post-qualification and quantify the impact of FE on their income and job security."
SFR information is collated by colleges and submitted to the Skills Funding Agency (SFA) through monthly data returns — and UCU warned this process should not get any more complicated. Problems with the development of the SFA's data reporting software, Funding Information System, during the reporting period for the 2013/14 statistics, where providers were unable to submit data through the new system has led to the SFR for 2013/14 being seen as potentially unreliable.
"It's crucial that any changes to the data being collected do not place additional administrative strain on colleges which are already under significant pressure due to funding cuts," the UCU spokesperson said.
A BIS spokesperson said: "The survey is being conducted as part of the commitment to ensure that the SFR is providing useful information. It's due to run until the end of June."
Nobody from the Association of Colleges was available for comment.
Click here for the survey (then scroll down for grey box on right containing survey link).

New target needs new statistics
With the Department for Business, Innovation and Skills reviewing what is contained within the key quarterly document for FE and skills in the statistical first release, Chris Henwood outlines what changes he thinks are required.
The statistical first release (SFR) is an eagerly-awaited document for FE Week.
It gives us the information to assess the outlook for apprenticeships, looking at whether the number of starts is heading in the right or wrong direction.
And given the significance of apprenticeships for the new government, with its 3m starts target by the end of this Parliament, the importance of the SFR as a means of checking on this performance can only increase.
But there is room for improvement in this scrutiny, and so the Department for Business, Innovation and Skills (BIS) consultation on the SFR is very much welcomed and something I hope will result in a number of changes.
Currently, the Skills Funding Agency and BIS are not actively monitoring how many people start an apprenticeship. We know this because our requests for just such data under the Freedom of Information Act were rejected. What is recorded and reported is the number of starts — so one person could start a number of apprenticeships by either dropping out of one and moving to another, or even moving up a level.
It seems ridiculous that we don't know how many people are applying and that we don't know how many people are starting apprenticeships for the first time
We are left with a number far higher than how many people are starting apprenticeships and it is this higher number that has been bandied about as a measure of how the Coalition topped the 2m apprenticeships mark in the last Parliament. But of course the number of people would have been lower, as former Business Secretary Dr Vince Cable once conceded to FE Week.
If we are to really monitor how many new apprenticeships are being created and how many people are being attracted to the programme, then a figure for the number of learners starting apprenticeships for the first time might provide the basis for more meaningful assessment.
It's a figure that the higher education sector has in 'initial entrants', with the caveat that to be counted, a student must have been on a course for a minimum of six months and after this, if they change course they are not then counted again. Such a change would therefore also allow for FE and higher education comparison.
A further SFR area for improvement would be with regard the number of applications, because again there is room for confusion surrounding how many people we are talking about. Put simply, one person could make any number of applications for apprenticeships. So one person, many applications.
It seems ridiculous that we don't know how many people are applying and that we don't know how many people are starting apprenticeships for the first time, but if we are to witness a change in this situation then it would also be useful to know whether people starting apprenticeships or applying for them were existing employees and further whether they were still in the job a few months down the line.