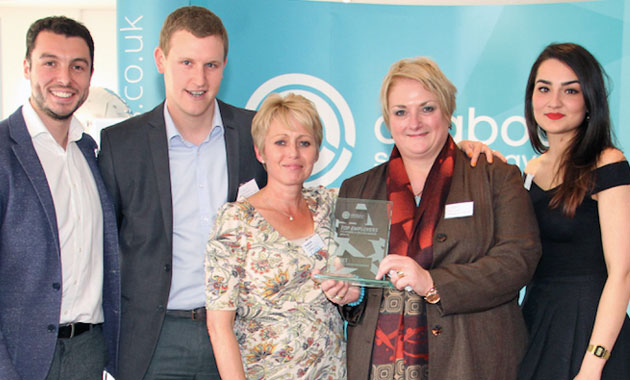 Apprentice employers have been honoured at a glitzy London ceremony at the Oxo Tower.
The third national AllAboutSchoolLeavers Awards were judged using employee satisfaction surveys, with research on every aspect of young people's working lives — from job satisfaction and career progression, to company culture and work-life balance.
Nineteen awards were up for grabs on the night, rewarding top UK employers who offer intermediate apprenticeships, advanced apprenticeships, higher apprenticeships, school leaver programmes and sponsored degrees.
International energy provider National Grid stole the show, winning both top employer for school and college leavers and best school leaver programme.
Sharing the limelight were Visa Europe who won best higher apprenticeship, Nomura who won best intermediate apprenticeship, Nestlé for best sponsored degree and Tangerine PR, who claimed a series of awards including best newcomer, best advanced apprenticeship and best school and college leaver recruitment campaign.
And young people themselves were celebrated for making a valuable contribution to their chosen industry. Eighteen-year-old Honeybea Youngman was named school or college leaver of the year for her work on the Pret A Manger school leaver Programme.
Honeybea said: "I have really loved the responsibility and independence that I have gained. I can honestly say it has been a great transition from school to work."
Pret school leaver programme coordinator Kate Nicholls said: "We are just so proud of Honey and how much she's achieved.
"Honey has grown up with us. We trust her 100 per cent. She's a critical part of the shop, and has responsibility for running shifts even though she's still only 18. She knows how to be in control and we totally respect her."
While 13 of the awards were based on employee satisfaction surveys completed anonymously by school leaver trainees who currently work for the companies involved, a further four categories were judged by a panel of 12 impartial industry experts, and a final two by a student judging panel.
Industry figures on the expert panel included Jonathan Ledger, chief executive of Proskills UK, Janet Hull, executive director at Creative Pioneers, and Simon Tarr, managing director at People 1st.
The award winners included companies from various sectors, from IT and engineering to retail and law. They ranged from household names, such as Jaguar Land Rover, to growing SMEs, such as Ginger Nut Media. The awards took place on May 18.
Main pic, from left:  Jack Denton, co-founder of AllAboutGroup, Chris Leonard, resourcing coordinator, National Grid, Sharon Goymer, resourcing manager – development programmes, National Grid, Karen Alford, resourcing specialist – technical programmes, National Grid, and Ezgi Bulbul, account executive, AllAboutGroup