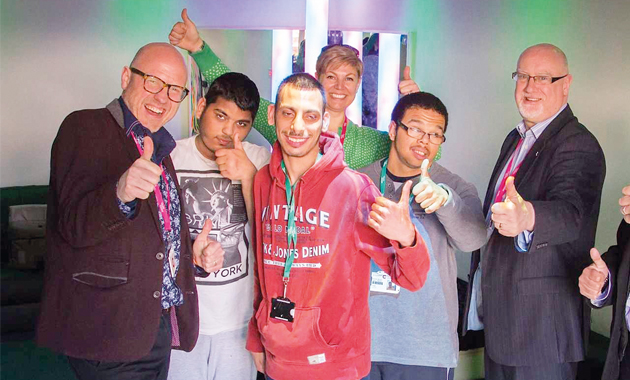 A new £10,000 sensory room has been installed in Central College Nottingham's centre for students with learning difficulties and disabilities.
The room contains state-of-the-art lighting and sound equipment and an interactive sensory floor designed to help improve learners' confidence and communication skills.
Members of the college's executive management team played a game of virtual football with students at the official opening event.
Lyndsey Turner-Whitby, Horizons tutor for learners with a variety of disabilities, said: "A lot of staff and students came together to help raise funds for the centre, to add to the money allocated by the college.
"The students really do get so much out of it. It's stimulating for those that need it, but with the soft lighting and sounds it's relaxing too."
Main pic: From Left: Vice principal for learning services Jason Folkett, Horizon students Tamur Khalid, aged 20, and Mandeep Dhamrait, 23, vice principal for curriculum Yultan Mellor, Horizon student Korrey McCoid, 20, college principal Malcolm Cowgill and curriculum manager Mark Johnson