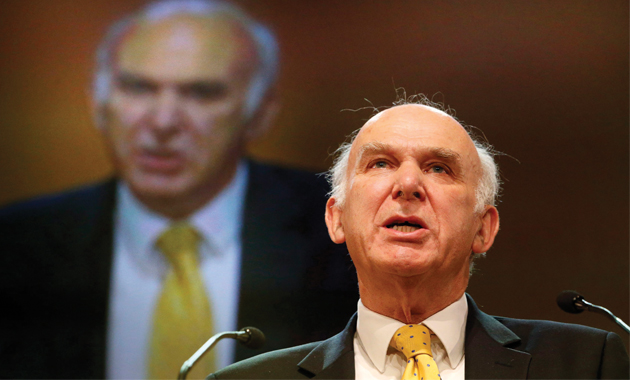 Sector leaders lined up to pay tribute to the efforts of former Business Secretary and self-proclaimed FE-saviour Dr Vince Cable as a "champion of the sector".
The senior Liberal Democrat became one of the most high-profile casualties of the General Election on May 7, when he lost his Twickenham seat to the Conservatives. He has since been replaced as Business Secretary by Conservative Sajid Javid.
Dr Cable claimed last October that he fought off suggestions from civil servants in 2010 that budgets across the sector should be cut to a level that would have "killed off FE".
His claim was backed-up at the time by former Skills Funding Agency director of provider services David Hughes, chief executive of the National Institute of Adult Continuing Education. Mr Hughes said: "Vince was always — and I'm sure still is — a champion for FE and the support it gives to people who need help to get on in society. His passion for the sector and determination to make it as good as he possibly could shone through."
The sector, not including apprenticeship budgets, is currently being hit by 24 per cent cuts despite Dr Cable's former presence in Government. Nevertheless, former senior civil servant Sue Pember (pictured), who worked with 10 FE and skills ministers and eight secretaries of state over six years up to 2013, remained full of praise for Dr Cable. The former head of FE and skills investment at the Department for Business, Innovation and Skills, who will start as director of policy and external relations for adult learning provider membership body Holex in August, said: "Dr Cable was an incredible and supportive Secretary of State and a true champion of FE. He fully understood how adult education enhanced lives and individual prospects and how in turn that bolstered productivity."
Martin Doel, chief executive of the Association of Colleges, said: "The fact Dr Cable remained as Secretary of State for the full five years gave him a good knowledge of FE, only adding to his evident personal commitment to colleges. Throughout that period we knew we had someone at the top who understood and appreciated the work of colleges."
Stewart Segal, chief executive of the Association of Employment and Learning Providers, said: "We are grateful to Dr Cable for protecting the apprenticeships budget during the past five years and for overseeing the launch of traineeships. Dr Cable showed a real propensity to listen to concerns, such as ones about employer contributions to apprenticeships, and take notice of the frontline evidence presented to him."
Dr Lynne Sedgmore CBE, executive director of the 157 Group, said: "We are especially sad to say goodbye to Vince Cable, who has been very supportive
of FE despite the difficult times we have been facing over the past few years."
Main pic: Vince Cable
Danny Lawson/PA Wire