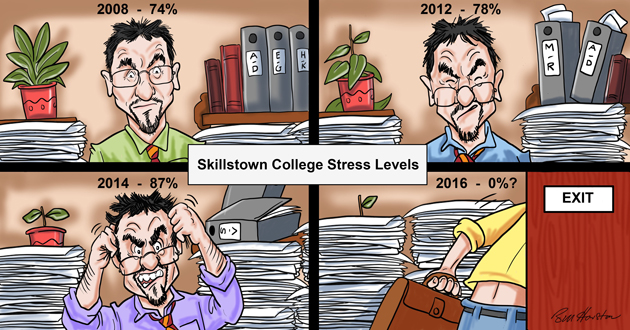 Working in FE today is more stressful than at any point in the last six years due to workloads and constant change, a survey by the University and College Union (UCU) has suggested.
The report, Taking its toll – rising stress levels in further education, showed how 87 per cent of staff who took part in the survey last year agreed or strongly agreed that their job was stressful, up from 78 per cent in 2012 and 74 per cent in 2008.
The survey of 2,250 FE college staff, published on Friday (May 15), also found that more than two thirds (69 per cent) of respondents scored four out of five on a scale used to measure psychological distress — the level at which it is judged intervention is needed to improve psychological health.
Sally Hunt (pictured front), UCU general secretary, said the combination of concerns expressed by staff was "a recipe for disaster".
College staff saw change as the most stressful aspect of their jobs, followed by heavy workloads and lack of control.
Seven out of 10 respondents agreed or strongly agreed that too many changes had been introduced.
Ms Hunt said: "It is clear that working in FE has become more stressful with every passing year. The sector and the people who work in it desperately need some stability."
Just one-in-ten respondents were very or extremely satisfied with their jobs and the lowest levels of satisfaction were with college management.
"We appreciate a lot of the change has been imposed on colleges from above but this survey also tells us that the way change is being managed and communicated within colleges is a significant source of stress for employees," said Ms Hunt.
She added: "This report sets out mid and long-term targets for colleges to alleviate stress and they should not be ignored."
Dr Sedgmore said: "It is very concerning to see the rise in such key indicators among staff. It is clearly a very difficult time with constantly reducing resources and funding for both staff and managers."
Marc Whitworth, director of employment policy and services at the Association of Colleges (AoC), said: "Managing change is a priority for college leaders as is the engagement of the workforce to deliver key services for students. Colleges are being forced to make tough decisions as FE continues to be squeezed by government funding cuts and policy changes are implemented.
"College leaders are working hard to support their staff as well as continuing to find new ways of working, improving responsiveness to change and developing new skills. We believe college staff are meeting these challenges with determination while prioritising the needs of their students and providing high-quality education and learning experiences."
The UCU survey results follow those recorded in the FE Week and Policy Consortium FE and skills survey, published earlier this month, which showed 43.5 per cent of 553 respondents were extremely concerned with the rate and pace of change in the sector, while 50 per cent of 551 were extremely concerned by workload.
 Click here for UCU guidance on dealing with work-related stress.