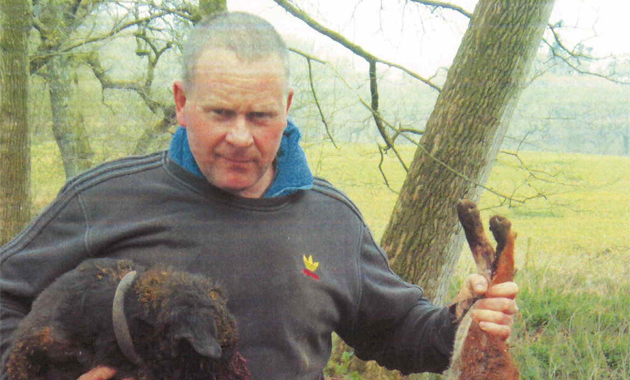 *WARNING – CONTAINS IMAGE OF DOG INJURIES
A former Canterbury College tutor has been jailed for animal cruelty after forcing his dogs to fight "barbaric" matches against wild animals, resulting in appalling injuries.
Steven Alston (pictured) was sentenced to 160 days behind bars, banned from keeping animals for life and ordered to pay £10,000 in court costs last week after pleading guilty to causing an animal fight to take place and causing unnecessary suffering.
District judge Justin Barron, who heard the case at Folkestone Magistrates' Court, said he would have passed a stronger sentence if the law had allowed it.
Inspector Cliff Harrison, from the RSPCA's special operations unit, described Mr Alston's actions as "a sickening form of deliberate and premeditated animal cruelty".
"It isn't just the animals targeted that suffer sickening injuries, but also the dogs used in this barbaric activity," he said.
"No animal deserves to be used and treated in this way. I am pleased that the court clearly took a similarly strong view and has prevented the defendant from owning a dog ever again."
The RSPCA has released images of the injured dogs, many of which needed reconstructive surgery after having parts of their nose, jaw and muzzle ripped off in fights.
Canterbury College has distanced itself from 49-year-old Mr Alston, who taught bricklaying there between 2005 and 2010.
A college spokesperson told FE Week: "The horrific crimes for which Steven Alston has been convicted do not relate to the college or his time here.
"He left the college in 2010 following a departmental reorganisation that led to his position in the college being made redundant."
Jonathan Edwards, defending, told the court Alston had lost work because of publicity from the case and that his earnings had subsequently been hit, meaning his financial situation was"precarious".
He also claimed Alston  had used painkillers to reduce the dogs' suffering, adding: "He is not completely dismissive of their injuries and is not callous but a man who valued the animals in his care. There was no intention to hurt them."
Mr Alston's activities were uncovered when his wife, Lucy, aged 44, accidentally dialled 999 on a phone in her pocket and police responding to the call discovered eight wounded terriers, as well as equipment for digging out wild animals, at his home in Littlebourne, Kent.
The Canterbury College spokesperson added: "The details of the case as published are disturbing and if any student or member of staff at the college is affected by the graphic content of some of the news reports then the college will provide whatever support it can."