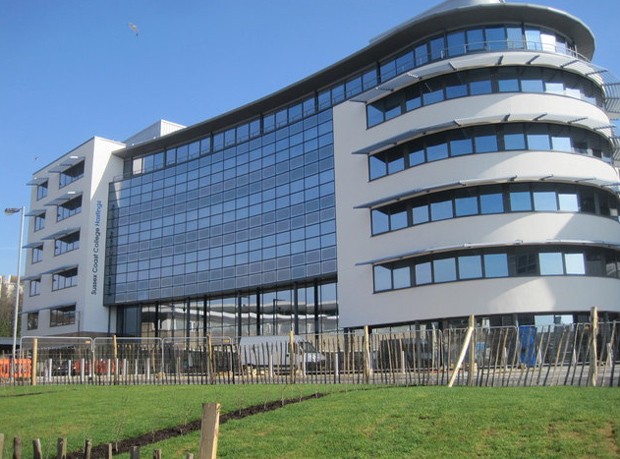 Pearson has stopped certificating a higher education course at Sussex Coast College Hastings (pictured) because of concerns over a "lack of rigour" with grading and enrolments.
A report published by the Quality Assurance Agency (QAA) this month following an inspection in February was highly critical of the higher national certificate (HNC) in business (management) delivered through "distance learning" at the grade two Ofsted-rated college.
It stated that students without standard-entry qualifications were only required to complete a 100-word statement to be enrolled and "in the view of the [inspection] team this is not a sufficiently robust assessment tool".
It added that Pearson, which is the awarding organisation for the course, had "highlighted some issues relating to the lack of rigour in the internal verification process resulting in grades being too high".
"As a result, Pearson had 'blocked' the programme," the QAA report said.
It called on the 6,000-learner college to submit "an action plan to address the issues" next month.
College principal Clive Cooke said: "The college is working very closely with QAA, Pearson and the Higher Education Funding Council for England to address the recommendations and has already submitted an action plan with the aim to implement all recommendations by the end of the academic year."
The QAA report said that private Middlesex-based education support services firm Acquire Learning had acted as a "recruitment agency [for the college course] providing guidance through the application stage and making offers to standard-entry students".
An Acquire Learning spokesperson said: "There were some teething issues with this course but the college has made considerable steps to address these. The admissions process is quite robust."
A spokesperson for Pearson said the college was not registering students on the course "while they work to address the issues identified".
She added: "We continue to work with the college to ensure standards are met and maintained."