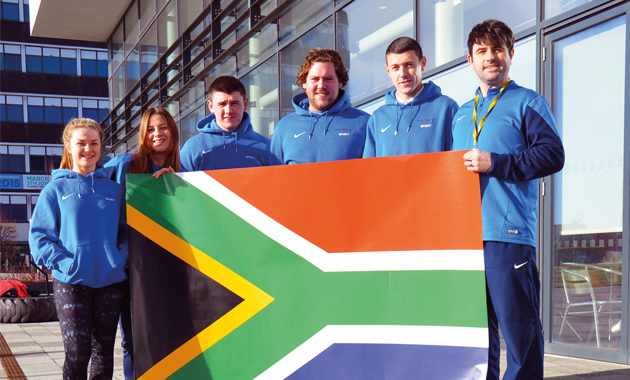 A group of Merseyside college learners had their eyes opened to the world of poverty as they left their first class facilities behind and headed to Cape Town to coach football to disadvantaged children, writes Billy Camden.
Being met with school settings of wooden huts and dusty waste grounds covered in rubble and rubbish was a stark contrast to life at home for a team of Hugh Baird College sport students and lecturers.
But despite the "worse than expected" facilities, the group — who visited the South African city of Cape Town to coach football to pupils — were greeted with overwhelming enthusiasm and smiles.
"We were treated like celebrities," said sports lecturer Lyndsey Jamieson.
"It is very unusual for them to see people from our background and girls with long blonde hair which was a big fascination for them."
The team of four BTec sport and fitness students included Leo Hanley, aged 27, Greg Page, 19, Anthony Jones, 16, and Stephanie Bond, 18, who all coached structured football sessions aimed at developing the youngsters' skills while also developing their English language skills.
Some of the most deprived schools had classes of 40 students, with not enough tables and chairs to seat the children. Students had no PE kits and many participated in bare feet against the vicious terrain, which came as a shock to the Hugh Baird students.
"The kids there have got so little but they are so happy with it. It really puts in perspective what we take for granted here," said Leo.
"But I did love it out there. It was a once in a lifetime experience of going and seeing different kids, seeing how they live and the different cities in a different part of the world was a real eye opening experience."
And the trip had a career defining influence on Greg, who wants to be a sports coach.
"It has had a massive impact on me since we got back. Looking at how they live out there put into perspective how we live here and how appreciative they are compared to us," he said.
"Seeing how the children benefited from us and the joy they got from it, I would definitely say that the trip has cemented my goal of wanting to be a coach."
It wasn't just all work as the group had plenty of opportunity to experience Cape Town as tourists — they surfed, went diving with sharks, sunbathed with penguins and took in the views of the Cape from Table Mountain.
But the experiences with the African children are the main memories to be taken back.
Lyndsey said: "I am extremely proud of the perseverance of the students despite the long days, heat, language barriers, facilities and sometimes lack of rest.
"They have learned a lot about the world they live in, the problems that some people face just to survive and how well-off we are in our educational setting and facilities."
The trip was made possible through HQ Coaching's, 'Engage for South Africa' project, where UK volunteers are arranged to teach or coach sport in poverty-stricken schools.
Main pic from left: Steph Bond, sport lecturer Lyndsey Jamieson, Anthony Jones, Greg Page, Leo Hanley and trip organiser Mike Carney.