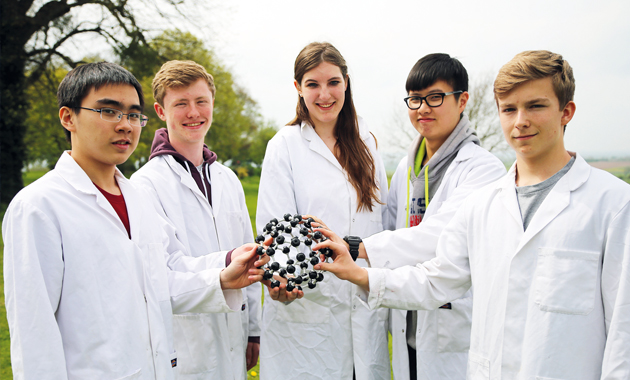 Five Hartpury College students found the formula for success as they clinched gold, silver and bronze medals at a chemistry olympiad.
The learners — who all study A-level chemistry — had to complete a challenging written test of chemical knowledge in the Royal Society of Chemistry's annual competition.
Rachel Johnson, aged 18, was the Gloucestershire college's star performer as she clinched a gold medal.
First year students Nick Gallagher, 17, and Ly Xuan Bach, 18, achieved silver medals.
Ka Hin Ng, 17, also achieved silver, while Oliver Brown, 17, won bronze.
Hartpury chemistry A-level lecturer Sion Wall said: "For five students to win medals for their academic performance up against the brightest young chemistry talent in the country is an incredible achievement, especially when two of the students are only first years."
Main pic: Hartpury's chemistry A-level students who achieved medals in the chemistry olympiad. From left: Ly Xuan Bach, Oliver Brown, Rachel Johnson, Ka Hin Ng and Nick Gallagher