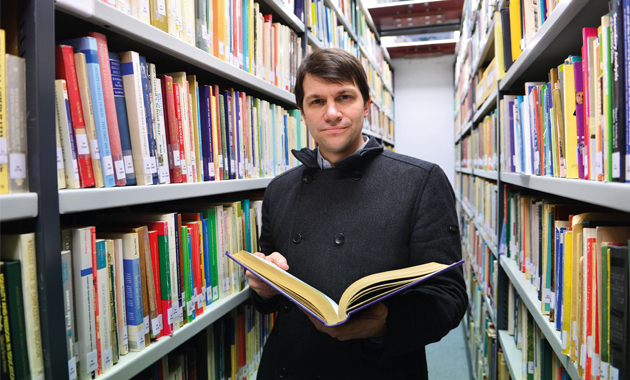 A long-forgotten collection of key documents hidden away in the dimly-lit basement of a Somerset lodge for nearly half a century before their chance discovery led to pride of place at a London institute — it's certainly not your average FE and skills storyline, writes Paul Offord (pictured above).
But it's one that stars New College Telford governor and Association of Colleges Governors' Council member Graham Briscoe and a huge collection of records at the Institute of Education (IoE) that charts the history of FE dating back to the early 20th Century.
Almost 900 boxes stuffed with document upon document charting the development of FE over the last century would have been lost forever if it wasn't for Mr Briscoe's quick-thinking.
The collection of books, official reports and other archives had been part of the library at the former FE Staff College in Coombe Lodge, Somerset, which was a national training centre for sector leaders for more than 40 years from the 1950s.
The documents were stored in the basement and largely forgotten about after Coombe Lodge, which was built in 1932 by the Bristol-based cigarette-manufacturing Wills family, closed as a training centre in 2002 and was turned into a privately-run conference and wedding venue.
Graham Briscoe, who was a governor at that time for Coleg Gwent, in South Wales, and City of Bath College, came across them in 2008, during a lunch break while working there as a Saturday conference porter.
He recalled how his quick thinking, after the building changed hands in 2009, saved what is now known as The Coombe Lodge Collection from being dumped.
"I had been developing a portfolio of housing association non-executive directorships and governorships at colleges after retiring (as operations support leader for insurance company the Royal Sun Alliance Group), but had nothing to do on a Saturday, so took on the conference porter job and was fascinated to find the archive in the basement," said Mr Briscoe.
"I used to spend my lunchtimes opening up boxes and reading through the papers, as I'm a bit of a heritage nerd like that."
But he said: "I heard that the new company that took on Coombe Lodge was going to have a clear-out and throw all the boxes in a skip. I thought 'No you're not' and got to work on a rescue plan."
Mr Briscoe asked his friend Mick Fletcher, who was head of training at Coombe Lodge from 1989 until 1995, to accompany him to the basement to check through the boxes and make sure they were worth saving.
"The library at Coombe Lodge basically went when it closed as a training centre and I wasn't aware of how many of the records had been retained," said Mr Fletcher.
"It was really fortunate that Graham knew they were there. I saw straight away what an important historical record they were for our sector and wanted to help."
Mr Fletcher, a regular FE Week expert and member of the Policy Consortium, put Mr Briscoe in touch with the IoE, in London, which agreed to take on the archive that includes many FE-related local authority and government documents and reports published by the now defunct Association of Technical Institutions (ATI) and Association of Colleges for Further and Higher Education (ACFHE) dating back to the turn of the 20th Century.
Mr Briscoe also secured around £500 funding from the Learning and Skills Improvement Service (LSIS) to fund the hire of a white Ford Transit van and petrol to transport the boxes to the IoE.
"After getting the funding, I decided to do the move myself as quickly as possible," said Mr Briscoe.
"I had to carry each box up a winding turret-style staircase from the basement and across a corridor to a door where the van was parked."
He added: "There were far too many boxes to fit in the van, which I then drove to London, so I had to do it in two journeys over two weekends. I was really happy to save what's a very important archive of the history of the sector."
Paul Grainger, co-director of the centre for post-14 research and innovation at IoE, took charge of the collection after it was dropped-off by Mr Briscoe.
He said: "It took Dr Norman Lucas [IoE senior lecturer in post-compulsory education] and I a month to sift through the material and discard duplicate documents and books that we already had at the IoE.
"It was just the two of us, shirt sleeves rolled-up and late evenings, with books stacked in our offices, on the stairs, along the corridor. The health and safety people had the heeby jeebies.
"When we had whittled it down to a room full, we got it transferred to a small room at the library to await cataloguing."
The IoE then secured another £12,000 funding from LSIS to pay professional librarian Stephen Pickles to catalogue all the items, before the collection was finally unveiled to the public in March 2013.
Main pic: Reporter Paul Offord in the Institute of Education vaults checking out a book from the Coombe Lodge Collection
Archives show how history repeats itself for the sector
Reporter Paul Offord delved into the Coombe Lodge collection to see what had changed in the sector over the last century and, in many, cases what had not.
They say history repeats itself and I was struck by a sense of déjà vu as I read through FE-related pamphlets and books dating back 100 years.
So many of the documents I discovered in the IoE library vaults, which were mostly published by Association of Colleges predecessor bodies the ACFHE and ATI, dealt with issues that I have become familiar with at FE Week.
A pamphlet documenting an ACFHE summer conference in June 1977, for example, indicated that problems with poor careers advice for school students about FE are nothing new. The historical report said that "there would be advantages in colleges establishing closer ties with schools, so that the content of college courses reflecting employers' needs could be better understood".
Sector leaders who think recent FE-related government reform proposals, for example aimed at encourage more employer-involvement with apprenticeships, have come too thick and fast for financially-constrained providers could also take solace from an ACFE booklet published in 1979.
The document, called Education and Training of 16 to 18s, warned that "government must be resistant to temptations to make changes where none are needed. There can be a high price to be paid for disruption of established systems". It also noted a reluctance on the part of employers to support FE training schemes and concluded that "breakthroughs to achieve a positive employer attitude… may not be achieved without promotion by central government".
Further Education Trust for Leadership president Dame Ruth Silver, who trained at Coombe Lodge in the 1980s and signed-off around £13,000 of funding for the Coombe Lodge Collection while LSIS chair, said the lesson for policy-makers was to take note of the cyclical nature of FE. "I was delighted that the collection was saved because it charts our sector's history. People don't realise how much of what we are talking about now has been done or discussed in the past, "she said.
Another example of a recurring issue faced by the sector is the question of what balance should be struck between teacher-based and technology-enhanced learning. Skills Minister Nick Boles provoked controversy by announcing in January that he would not be enforcing the FE Learning Technology Action Group's recommendation that 10 per cent of all course content should be delivered online. James B Thomas had an earlier stab at addressing the thorny 'teacher versus tech' debate in a 1967 ATI pamphlet called Learning Packages for Technical Education.
He proposed incorporating film slides, education TV, audio tapes and "teaching machines" into lessons and said it was "not a plan to replace lectures but a scheme to improve their effectiveness".
And sector staff of today who feel frustrated by breakdowns in the government's online data collection systems might take solace in how much more labour-intensive the process used to be.
A 1967 ATI booklet, called The Administration of Technical Colleges, said: "At certain times of the year, the 650 colleges have to ask small armies of young women to extract data from the records… count them and then to make marks on pieces of paper either by hand or typewriter. Once sent through, the authority has to use a small army of women to take the marks from the returns and make other marks to process them."
It added that "if means could be found whereby the data in the college records could be extracted from them automatically, then indeed we should be getting somewhere".
And a sobering picture of the sector, it staff and learners, emerges from the 1917 ATI yearbook. It said that many people associated with colleges had been "called up to join His Majesty's Forces" to fight in First World War. "All the institutions in the Association have been affected more or less," it said.
"The principals and governing bodies have done all that in them lay to answer the call of the country [by] providing the best men and as many of them as possible for the defeat of the common enemy."
The ATI and Association of Principals of Technical Institutions also produced a pamphlet in 1938, in preparation for the Second World War, entitled Air Raid Precautions in Technical Institutions.
It said: "A blackout may be imposed at certain times. The memorandum is issued without prejudice to the question of whether or not ordinary evening classes should be kept up in the event of the outbreak of war."