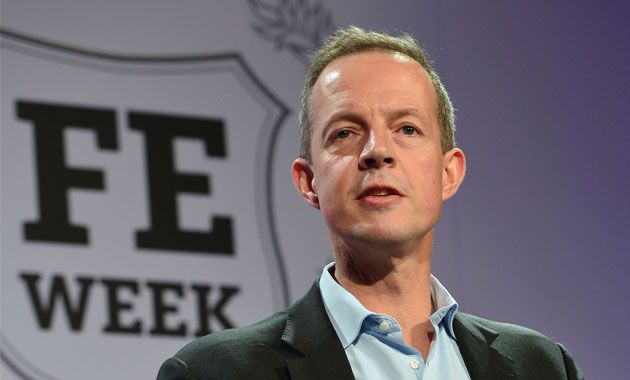 Nick Boles was tonight yet to speak with Prime Minister David Cameron about whether he will be reinstated as Skills Minister, FE Week can exclusively reveal.
Just hours after being returned as the MP for Grantham and Stamford with an increased majority after earning 28,399 votes, he said he had not spoken with Mr Cameron since the Conservative leader had secured the first Tory overall majority since 1992.
Mr Boles, who inherited the Skills Minister brief from Matthew Hancock in July, told FE Week that Mr Cameron "has been really busy with going to see the Queen and attending a VE Day event".
"I hope that he's now going take a little bit of time off himself," said Mr Boles.
Were Mr Boles to be reappointed Skills Minister, he would be in line for a new boss at the Department for Business, Innovation and Skills with Vince Cable having lost his Twickenham constituency to the Conservatives.
The former Liberal Democrat Business Secretary last October claimed to have fought off suggestions from civil servants in 2010 to cut budgets to a level that would have "killed off FE" — a claim later backed up by former Skills Funding Agency boss David Hughes, chief executive of the National Institute of Adult Continuing Education.
Mr Boles would likely be working under the same boss at the Department for Education however, with Conservative Education Secretary Nicky Morgan having retaken her Loughborough seat, also with an increased majority.
Nevertheless, Mr Boles said he had "hugely enjoyed" his time in the Skills Minister post, but would have no influence over which, if any, role he played in the new government.
But he went on to warn it was likely FE colleges would, under the newly-elected Conservative Government, be expected to generate more income directly from the business community and rely less on government cash.
"I think there will probably need to be slightly more done by the Department for Business, Innovation and Skills, the Skills Minister and the FE Commissioner to encourage colleges to look more widely at where they generate income from," said Mr Boles.
"They can't just look to the government, through the Skills Funding Agency, as a customer and need to develop better working relationships with, for example, employers who pay for courses directly.
"There are lots of colleges that do this very well already, but others have been slower to adapt. It's something that can be looked at."
He added: "Improving apprenticeships formed a key part of our manifesto and we are determined to do that."
Mr Boles said he was still tired after waiting through the night for the election result, which ended with a Conservative majority in the House of Commons.
"My result did not come through until about 6.50am, so I didn't really get to bed until 9.30am and didn't manage to get much sleep after that," he said.
"However, a General Election only happens once every five years and it's all worth it, especially when it's as exciting as this. You find all sorts of new reserves of energy and adrenalin to get through."