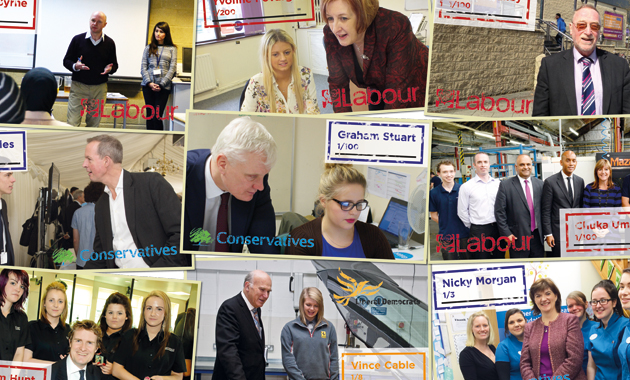 These are the political faces we've come to know in the world of FE and skills — but how likely are we to see them in the sector again after the General Election?
The good news for our current MPs is, at time of going to press, bookmaker William Hill said they were all odds-on favourites to win their constituencies.
But that doesn't mean they can relax — other candidates are hot on their heels, and of course there's no guarantee they'll take up FE and skills posts after the election even if they do win.
Most likely to keep their seats in the Commons, according to the bookies, are Shadow Skills Minister Liam Byrne, MP for Birmingham Hodge Hill, and Shadow Junior Education Minister Yvonne Fovargue, MP for Makerfield, both with odds of 1/200.
Both won their seats with large margins in 2010, with Mr Byrne winning by a majority of 10,302 votes and Ms Fovargue with 12,490.
Next we have Skills Minister Nick Boles seeking re-election in Grantham and Stamford on the back of a 14,826 majority last time, Shadow Business Secretary Chuka Umunna, MP for Streatham, with a 3,259 majority, Education Select Committee chair Graham Stuart, in Beverly and Holderness (majority 12,987), and Business, Innovation and Skills Select Committee chair Adrian Bailey (majority 5,651), fighting West Bromwich West. They are all priced at 1/100.
Behind them, Shadow Education Secretary Tristram Hunt has odds of 1/66 of keeping his Stoke-on-Trent Central seat where he enjoys a 5,565 majority. Looking slightly less comfortable are Business Secretary Vince Cable and Education Secretary Nicky Morgan. Dr Cable, who had a 2010 majority of 12,140, is still favourite to win in his Twickenham constituency but has shorter odds of 1/8. Ms Morgan, meanwhile has odds of 1/3 to win following a 2010 majority of 3,744.
So who are the favourites for next Business or Education Secretary? Wisely, William Hill said with such a high chance of another coalition, and so many possible line-ups, the the odds were impossible to calculate.