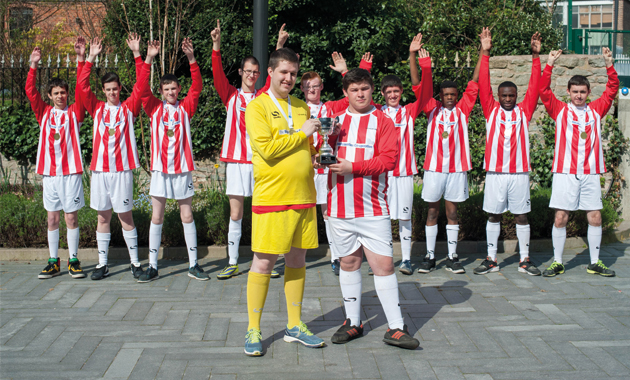 Walsall College's supported learning football team shot to victory at the Association of Colleges (AoC) National Sports Championships.
The team of 12 learners with a variety of disabilities had to win a regional round to qualify for the finals of the Football for Students with a Disability tournament, which was part of the AoC sports championships that took place in Bath.
They then finished ahead of sides from Tyne Metropolitan College, in North Tyneside, Bridgwater College, in Somerset, Blackpool and the Fylde College, Lincoln College and Newham Sixth Form College, in London after winning four out of six matches and scoring 10 goals.
Their college's sports development co-ordinator Mark Howard said: "The team's commitment, desire and attitude have been fantastic and their performances were truly outstanding."
Main pic: From left: Winning team members Matthew Hurd, aged 17, Dean Degville, 18, Ryan Williams, 17, Stuart Foster, 19, Tom Hargroves, 18, Shaun Eldon, 20, James Beardsmore, 17, Jonathan Garratt, 18, Michael Gladstone, 23, Omar Myers, 23, and Ryan McNicol, 17