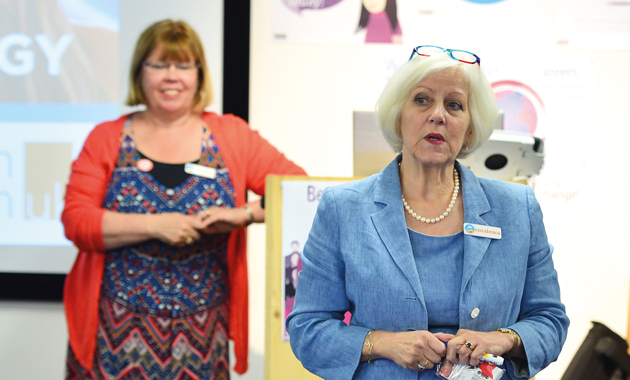 Greater collaboration between FE and business could help to encourage more women into digital industries, according to a report published by the Women in Technology project.
The findings of the report, produced by Coralesce with funding from the Education and Training Foundation, were revealed at the Women in Technology conference on Tuesday (April 21).
The Women in Technology Project Research Report 2015 called for a "two-way" street, "with industry and education working together" to level the playing field between women and men in the technology sector.
"The UK workforce is currently 46 per cent female but only 15 per cent of IT professional workforce is female," report author and Coralesce curriculum director Bev Jones told delegates at the event in East London, just a stone's throw away from Shoreditch, the heart of the UK's tech industry.
The 33-page report's co-author, Coralesce director Christina Conroy, said: "One of the challenges is clear when you look at where the new jobs are coming from.
"Of the 10 fastest growing jobs, eight of those were in technology… and if girls aren't going into these areas, they're missing out on all these new jobs, they're missing out on the growth in the economy and they're ending up marginalised, to lower paid jobs."
She warned of a "cycle of non-engagement" that education and industry needed to act against.
"What tends to happen is that because there's so few women in these organisations you get androcentric work environments — ones which are all very macho," she said.
"And because there are so few women, this isn't challenged and you get a lack of diversity of products and services aimed towards women.
"Then you get a poor perception of that industry among women, and they tend not to apply for those jobs.
"So the problem can't be solved in just education or industry, it has to be working in partnership."
The problem wasn't just one of equality, she said — increasing the number of women working in technology could generate £2.6bn for the economy.
"Industry recognises this as a problem as well," she said.
"But also we think by encouraging more women into tech will benefit FE by actually getting people to use learning technology — through, for example, designing lesson plans to get women into technology which actually use technology."
Ms Jones said one crucial factor for the FE sector was staff capacity to use technology in order to help young women engage with it in lessons.
Careers advice was also important, she said, as many young women could not name female technology role models and were not aware of the roles available or the benefits attached.
However, she added: "Most the stakeholders we spoke to felt trying to do something now in the FE sector was too late because they've made their choices — that there needed to be interventions and nursery and primary level."
However, Coralesce project manager Pauline Odulinski said focus groups with young women at Tower Hamlets College had pointed to a different conclusion.
She said: "Of course you've got to get the message over in schools at an early age but one of the interesting things with the Tower Hamlets girls was we asked them if they liked science and maths and the vast majority said they did.
"In actual fact you don't have go to ten-year-olds, I think you could go in just before GCSE about their careers choices and once you raise their awareness, I think it would make a real difference."
She also suggested colleges could have open days and invite women from the tech industry as mentors to raise young women's awareness and interest. Ms Conroy agreed.
"At GCSE, IT courses are nearly half and half girls and boys," she said.
"But when you look at A-level computer studies, it's about 6.5 per cent, in vocational it's 18 per cent, which is the same at undergraduate level — and that reflects the numbers that go into industry."
The key, she said, was in partnerships which the project was looking to create between individual employment providers and an industry partner, to look at ways to break the cycle through mentoring, internships and careers advice.
Ultimately, she said: "You can't solve it with big government schemes, you have to sweat the small stuff. You have to do a bit here, a bit there and gradually it does get better."
Main pic: From left: Christina Conroy and Pauline Odulinski present the report findings