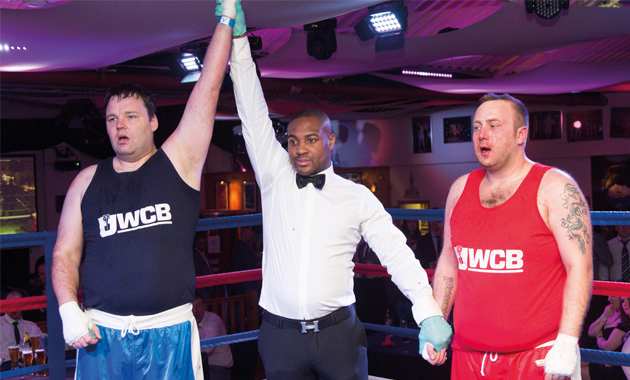 Shipley College tutor Matthew Green traded in the classroom for the boxing ring to help raise money for the fight against cancer and in honour of his father-in-law, writes Billy Camden.
When Matthew 'Raging Pig' Green knocked his opponent to the floor in the second round, he thought the gruelling eight-week preparation for his Ultra White Collar Boxing (UWCB) bout had paid off in style.
But despite a broken nose, Gary 'G-Dog' Reeves got back to his feet to the cheers of the 500-strong audience and the fight, to raise money for Cancer Research UK, continued.
"I was thinking 'don't get up' because I was shattered already. But he pulled himself off the floor and fought right up until the end and then I got the majority decision," said 37-year-old Matthew, a Shipley College level two BTec sport lecturer.
The fight went the distance — a third and final two-minute round — before Matthew was awarded the win.
He took on the UWCB charity challenge in memory of father-in-law Mike Fawcett, who died 18 months ago after battling with lung cancer.
"You wouldn't believe how hard it was physically, it is a lot tougher than it looks. Just constantly throwing punches and trying to keep out of the way and the nervous tension that was building up throughout the day really got to me. But overall the match went really well," said Matthew.
He raised £670, while UWCB has raised more than £1m in total putting on bouts for people with no boxing background and training them for eight weeks.
"When I saw this was a boxing event it appealed to me straight away because I've always had an interest in the sport and then when I saw it was to raise money for Cancer Research UK as well I felt compelled to do it," said Matthew.
"I thought being pushed to the limit and experiencing some pain is nothing compared to what people go through when dealing with cancer so that really spurred me on throughout the whole challenge."
And mother-in-law Pat was particularly proud.
She said: "He did such a great job and it was a really thoughtful one for him to do. Because my husband died of cancer it was really close to my heart and that was why we as a family wanted to show all of our support to Matthew."
Matthew said: "To raise that much money for cancer is really something and to know that I played a part in it gives me real pride. I hope it all makes a difference."
Throughout Matthew's journey, Shipley College staff sponsored the father-of-five and his students even helped him come up with his 'Raging Pig' ring name.
Shipley College principal Nav Chohan said: "Matthew has shown some real grit and determination in taking on this boxing challenge. He is a truly inspirational person and a credit to the college, so we paid for sponsorship of his vest to show our support."
Matthew's fight took place on March 28 at The Venue, Halifax.
Main pic: Matthew Green (left) after winning his charity bout in aid of Cancer Research Uk
Photos taken by: Adam Tate