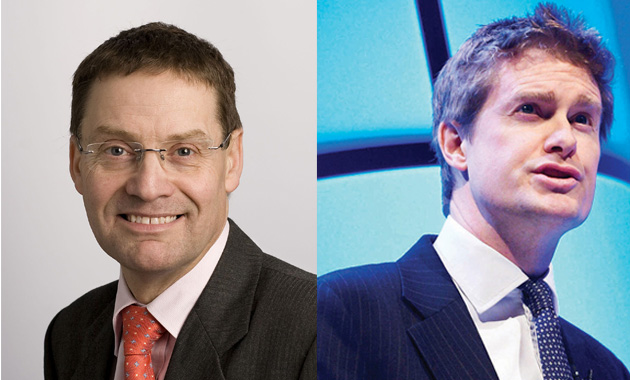 Labour plans to replace GCSEs with a "national baccalaureate" with both academic and technical routes will only work if those in power take a "coherent view of routes across upper-secondary," the party's skills taskforce chair Professor Chris Husbands has said.
Speaking to FE Week this morning, the Institute of Education director (pictured above left) said GCSEs had "less function in the system" than when they were introduced almost 30 years ago, but should not be scrapped without plans in place for an over-arching 14 to 19 education system to replace them.
His comments come after Shadow Education Secretary Tristram Hunt (pictured above right) told the Guardian his party could get rid of GCSEs in the next 10 years, replacing them with a single baccalaureate for 14 to 19-year-olds similar to the one recommended by Mr Husbands' taskforce, which was initially passed over in favour of the technical baccalaureate.
Mr Husbands said he didn't take Mr Hunt's comments as a policy commitment, and said such a move would be difficult "politically" for any party, but added that with the participation age rising to 18 this September, there was less of a need for GCSEs.
He told FE Week: "When I started teaching in the early 1980s, loads of kids left at Easter before they did their exams. Introducing GCSE was a way of keeping them at school. GCSEs have less and less function in the system.
"But we need a coherent view of routes across upper-secondary, and that's when we can get rid of GCSEs. But, electorally, my understanding from speaking to Conservative and Labour MPs, is that going into an election, getting rid of GCSEs would just be so difficult to defend. It needs to be done with consensus and it needs to be done gradually."
During the earlier press conference, Mr Husbands said Labour had been wrong not to adopt his proposals for a national baccalaureate, which would have provided a "better map across upper secondary".
He said: "My preference, and I thought I outlined a deliverable way of doing it, was for a single over-arching baccalaureate framework within which a technical route exists and an academic route exists. I think if you don't give that, you will end up with fragmentation which is wildly unhelpful.
"I recommended a national baccalaureate. I thought it could have been delivered through a re-thinking of existing qualifications, it wasn't an expensive route, I think it could have been achieved, and the party said they had decided they would not do that, that they would go with the tech bacc.
"Needless to say I think I was right and they were wrong."