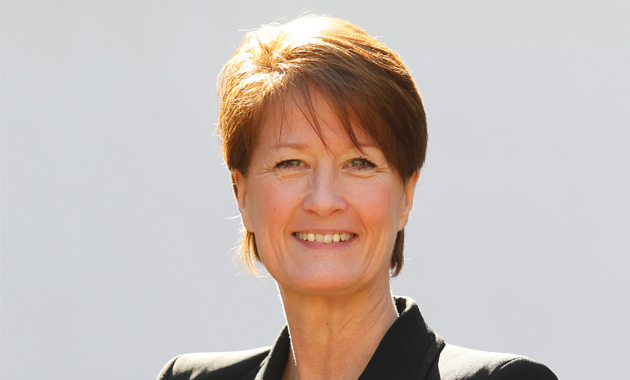 A cash-strapped East Midlands college's plans for a multimillion pound campus revamp have been saved after the Skills Funding Agency (SFA) and local authority stepped in with £12m of funding.
New College Nottingham (NCN) has already had a grant of £15m from the SFA for its Basford Hall campus redevelopment, and the new deal will bring the funding up to the £27m needed for the work.
It is understood finances at the college, which triggered an inspection from FE Commissioner Dr David Collins in February, had proved a concern for potential bank lenders.
However, a spokesperson for the college, which suffered a loss of £2.4m last academic year, said it would now be able to open the revamped campus on time this September following a £5m loan from Nottingham City Council and, FE Week understands, a £5m SFA grant and exceptional financial support of £2m.
Principal Dawn Whitemore (pictured) said the Basford Hall campus deal was "a solution that safeguards what is the single biggest investment in FE in the city for many years".
"The college has been involved in financial discussions with our funding partners for some time," she said.
The new campus will accommodate 4,500 construction, science, engineering and technology students a year.
A Nottingham City Council spokesperson said: "Basford Hall is such an important college site — it's in the heart of the north of the city, surrounded by the communities most in need of support in developing skills for work." He added the funding package would "help NCN on its road to financial recovery".
An SFA spokesperson said NCN's initial grant was approved in November 2013 through the College Capital Investment Fund (CCIF).
"Through the year end management of the CCIF programme and clarification of funding available it was agreed that a further grant could be awarded to NCN as part of their CCIF project in accordance with the 'rules' of the CCIF programme," she said.
Financial issues at the college, which is looking to shed around 80 posts, mean it has also been forced to put its contribution to a £60m city-wide skills hub on hold — although it remains involved with a scheme steering group. "We are working together with Central College Nottingham and other partners on the Skills Hub development," said Ms Whitemore.
"It has been a challenge to commit to the levels of resource needed, but both colleges are still committed."
Dr Collins' report on NCN, which was given a grade three rating by Ofsted in June, is yet to be published.