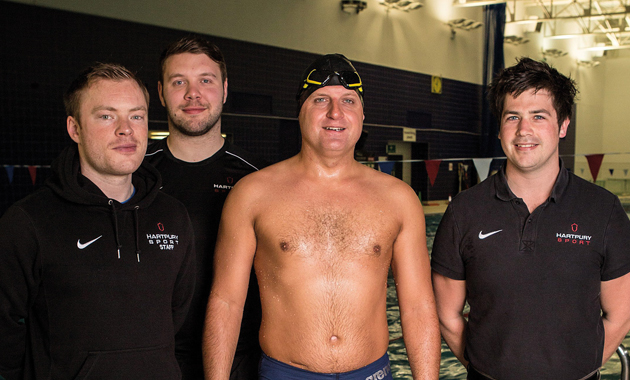 Hartpury College staff are facing their biggest challenge yet in training a charity fundraiser to swim across the Atlantic from Africa to Brazil, writes Billy Camden.
Swimming 2,000 miles in 6.5m strokes may seem an impossible task to most, but not father-of-one Ben Hooper, who will have four Hartpury College lecturers to thank if he succeeds in crossing the Atlantic.
Richard Collins, Tom Cresswell, Ben Drury and James McCarron are the sports and exercise team behind 36-year-old Ben, whose swim is due to begin in November.
The 90-day challenge will see Ben swimming front crawl for up to 12 hours a-day when he starts his 'Swim the Big Blue' adventure in aid of four charities — Plastic Oceans Foundation, Maggie's Cancer Care Centres, Addaction and SOS Children's Villages.
He could come face-to-face with deadly jellyfish and 30ft waves, not to mention killer sharks.
Ben said: "This is without doubt the biggest challenge I have ever faced.
"I am on a mission to prove that nothing is impossible and the support of Richard, Tom, Ben and James at Hartpury has been invaluable in preparing me, both physically and mentally, for what lies ahead."
And the man charged with making Ben mentally strong enough for the challenge is chartered sport and exercise psychologist Richard, head of sports psychology at Hartpury.
He said: "Ben will face difficult and dangerous conditions, not to mention overwhelming fatigue and, although he'll be supported by a crew, contact with them will be minimal. Being effectively alone for two months or more is a huge psychological barrier to overcome and in-depth mental and physical preparation will be vital to his success.
"We're monitoring Ben's heart rate, sleep patterns and emotional state on a daily basis and I'm trying to find his breaking point – that's something you have to practice."
Ben will also swim through the Doldrums — areas near the equator infamous for their stillness and humidity, and not forgetting the prospect of raging storms.
Learners at Hartpury College will benefit from the challenge by using it as a case study on their courses. And after the challenge is completed, Ben will visit the students to give inspirational talks and workshops.
"The best way for us to teach sports science as lecturers is to use case studies and this one is perfect for us because we are physically involved in it," said Richard.
"The students are responding great and are really excited for the talks later in the year."
Head of physiotherapy at Hartpury Tom Cresswell aims to make Ben as physically ready for the challenge as possible, as he could be burning up to 12,000 calories a-day.
Tom said: "This will be a gruelling trial of endurance and the focus will be on building robust shoulders and a torso that doesn't waste energy. An efficient stroke will then support the engine that will be fine-tuned by strength and conditioning."
Visit www.swimthebigblue.com to follow Ben's progress and donate.
Main pic: from left: James McCarron, Ben Drury, Ben Hooper and Richard Collins during training for Swim the Big Blue