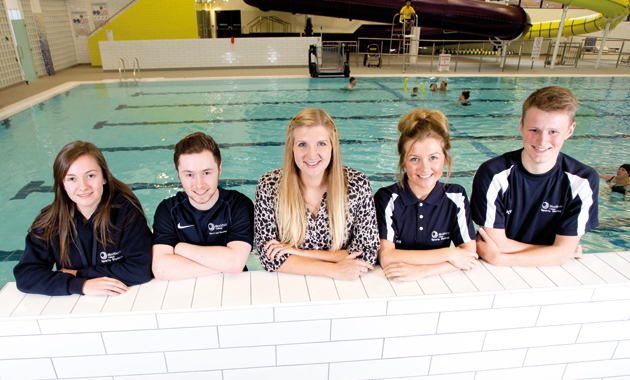 Double Olympic gold medal-winning swimmer Rebecca Adlington officially opened a new £13.5m sports centre for Blackburn College.
It was developed by the college and the local authority and is open to both students and the community.
It was opened with the unveiling of a commemorative plaque by Ms Adlington, who retired from competitive swimming last year.
She took a tour of the facilities before taking part in a Q&A session with learners.
The complex features two sports halls, an 80-station fitness gym, aerobics and separate spinning studios, a 25-metre swimming pool, training pool and a sports science performance and testing laboratory.
Blackburn College governors' board chair Bill Taylor said: "I would like to salute the council and the college for their courage and creativity in creating such a world class facility."
Main pic: Rebecca Adlington joins students from Blackburn College at the opening of the Blackburn sports and leisure centre. From left: Level three extended diploma in sport learners Paige Brogan, aged 16, Nathan Hartshorne, 18, Ms Adlington, level three sport diploma students Nicole Carter, 18 and Josh Bristol, 17