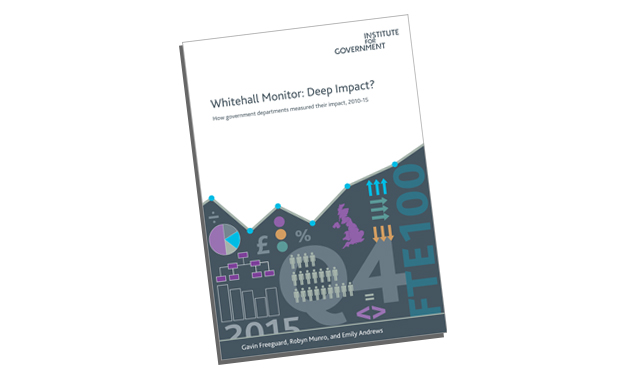 Level two and three "total achievement" levels for people aged 19 and above have declined over the last five years, a report charting the success of government policies has found.
The government introduced 'business plans' for each department in 2010 featuring a series of 'impact indicators' that were supposed to help the public keep tabs on key policies.
And the Institute for Government (IfG) report, called Whitehall Monitor: Deep impact (pictured), charts progress for each of these indicators.
It said that "very few of these indicators have specific targets against them", so IfG checked a variety of performance levels "for each indicator in 2010 and at the time of writing" to see if they had improved, stayed the same or got worse.
For the Department for Business, Innovation and Skills (BIS), the report said that "fewer than half of the department's indicators have progressed since 2010 — just nine out of 20 have moved in the right direction".
Of the indicators directly affecting the sector, the report found that there had been a decline in the 'total achievements in level two or three' of people aged 19 and over.
David Hughes, chief executive of the National Institute of Continuing Education, said this was "hardly surprising" as "the overall funding for FE has fallen significantly".
The report, however, recognised an improvement in the performance level of another FE indicator — 'qualification levels of the working age population'.
The IfG only found a decline in performance for one Department for Education (DfE) indicator — level two English and maths qualification levels for learners aged up to 19 — out of 28 in total.
Also with regards to FE, the report found that there had been overall improvement for 'education and work-based training at aged 16 to 17'.
Stewart Segal, chief executive of the Association of Employment and Learning Providers, said this "reflected well on the fact that the DfE, providers and employers have worked well together to introduce flexible programmes such as traineeships that give more opportunities to young people."
David Corke, director of education and skills policy for the Association of Colleges, said: "It would appear [from the report] that the introduction of raising the participation age, until the age of 18, has had a positive impact on the DfE performance, but not for BIS."
Dr Lynne Sedgmore, executive director of the 157 Group, said that there was "little evidence" that DfE and BIS made any use of the indicators. Both of the coalition parties declined to comment.
See feweek.co.uk for more reaction to the report.