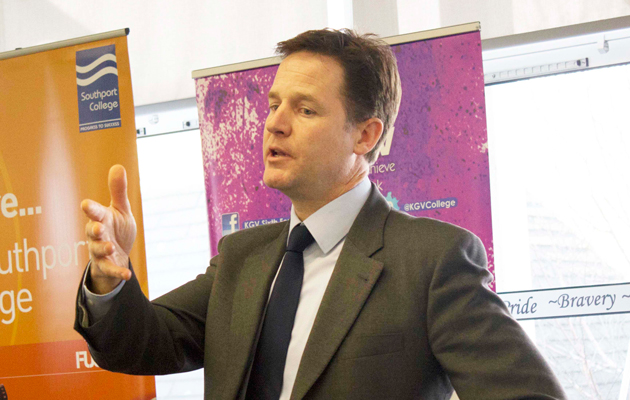 Funding for 16 to 19-year-olds would receive a boost under Liberal Democrat plans to budget for rising learner numbers, the party has claimed.
The Lib Dems are due to launch their manifesto this morning. It includes a pledge to protect the education budget for two to 19-year-olds in real terms, including an allowance for rising learner numbers, which the party claims will mean a budget £2.5bn larger than Labour's and £5bn larger than the Tories'.
Speaking at a launch in London, Deputy Prime Minister is expected claim that his is the "party of education", and say that the manifesto is a "blueprint for a stronger economy and fairer society".
He will add: "We want to ensure that every child, no matter where they are born, the colour of their skin, or how rich their parents are, has the same opportunity to reach their potential is.
"At the last election, protecting schools spending and investing huge amounts of extra money towards the poorest pupils was one of our top priorities. I am immensely proud that we did just that in government. But we won't rest there."
In their pledge, the Lib Dems are vowing to protect spending on two to 19-year-olds in real terms until 2017/18, when they hope to eradicate the cyclically-adjusted current budget deficit, and then increase education spending in line with economic growth. The pledge allows for a forecast increase in pupils of around 460,000 by 2020.
A party spokesperson said: "This year the two to 19-year-old education budget is £49.2bn. We will increase it to £55.3bn by 2020, the same level of funding required to protect per pupil funding in 2020."
The spokesperson claimed that Tory plans to freeze spending for five to 16-year-olds at its current level, leading to a cut in real terms and the threat of further slices from unprotected education budgets, would mean overall spending of £5bn less than the Lib Dems by 2020.
It said Labour, despite a protection for the whole education budget, had not allowed for the pupil numbers increase and would therefore spend £2.5bn less than the Lib Dems in the same period.