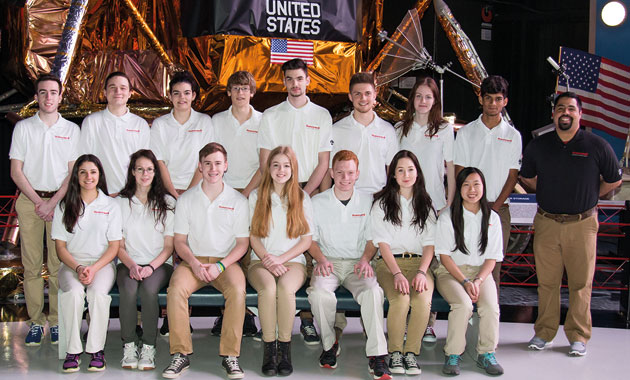 It was one small step for a learner and one giant leap for Susanna Harvey's future when she embarked on an experience of a lifetime visiting the US Space and Rocket Center (USSRC), writes Billy Camden.
Tumbling in a space capsule and walking on the moon are not events many 16-year-olds can say they have experienced but that is not the case for Richard Huish College student Susanna Harvey.
For the chemistry, maths, geography and French A-level learner landed the opportunity to visit the USSRC to participate in a week-long Honeywell leadership challenge academy, in Huntsville, Alabama.
Recognised as one of the most comprehensive US manned space flight hardware museums in the world, the USSRC trip allowed Susanna to experience simulated astronaut training, including a realistic shuttle mission in which she had to land a rocket and flying a Warhawk fighter jet simulator.
She also got the opportunity to see what it's like to walk on the moon where her body weight was lowered by 20 per cent.
"I really enjoyed the opportunity to see what it's like to walk on the moon and tumble in a space capsule," said Susanna.
"It was really hard to move forward, I was bouncing in one place and you have to use your arms to help you move. But I loved every minute of it and couldn't possibly decide my favourite part because it was all so amazing."
She added: "It is a scary thought going into space but some of the images of the Earth from out there are really awe inspiring."
She also had behind-the-scenes access to many of the space artefacts, including the Apollo 16 capsule and the recently restored Saturn V rocket.
Another highlight for her was having the chance to meet retired NASA astronaut Hoot Gibson, who flew five missions in the 1980s and 1990s.
"The talks from actual astronauts like Hoot were amazing. It was great to hear about their real life experiences and the pictures they showed us from their missions were really cool," she said.
Throughout the week Susanna also built cardboard rockets, extracted DNA from bananas and strawberries, built model moon landers and rovers and role played a tornado disaster search and rescue exercise.
She heard about the scheme, which is only open to children of Honeywell employees, through her dad, Robert, who works as a performance engineer for Honeywell in the UK.
The programme aims to build leadership skills by tackling real-world challenges in science, technology, engineering, and mathematics. And the experience did exactly that for Susanna.
Susanna was so inspired by the experience she is now considering a career in space and aviation.
"I've always had a big interest in science but before the trip I had no idea what I wanted to be when I'm older," she said.
"I wasn't even thinking of a career in space and aviation but the trip was really cool and has made me think about going into that industry."
Main pic: Susanna Harvey (centre bottom) at the USSRC with her fellow Honeywell leadership challenge academy participants