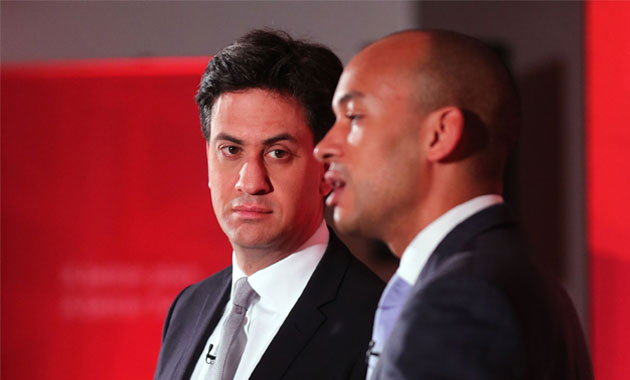 Labour remains committed to scrapping level two apprenticeships despite the absence of the pledge from the party's education manifesto, it has been confirmed.
Speaking to FE Week following the launch of the document at Microsoft's offices in Victoria, central London, Shadow Business Secretary Chuka Umunna confirmed his party still wanted all apprenticeships to be at level three or above.
It comes despite the fact the policy did not feature in the manifesto document itself, and was not mentioned by party leader Ed Miliband in his speech.
Mr Umunna said: "We want all our apprenticeships to be level three and above. That is not to say that we don't see a place for level two qualifications — we absolutely do.
"In and of themselves, there are important qualifications that are level two and of course they are an important stepping-stone to do a level three apprenticeship or other qualification."
When asked why the policy was not included in the manifesto document, a spokesperson said the party did not comment on process issues, adding that manifestos were only meant to provide an "overview" of policy.
A number of FE organisations have come out against the policy including the Association of Employment and Learning Providers, where chief executive Stewart Segal said: "We share the view of Confederation of British Industry, Unionlearn and the Commons Education Committee that high quality level two apprenticeships should remain part of the programme because they offer a ladder of opportunity to further progression."
However, the National Institute of Adult Continuing Education (Niace) has backed the policy.
Steve Mulligan, Niace assistant director for policy and public affairs, said: "At a time when we need to do all we can to boost productivity and people's career prospects and incomes, the last thing we should be doing is capping opportunities at level two where, currently, most apprentices stop learning.
"No one would say that stopping learning once you've done your GCSEs is a good idea. The same should be true for apprenticeships.
"Apprentices have the right to a working and learning experience that sets them up for a successful career and life of learning. Raising the bar to level three, while of course maintaining level two training, is a sensible way forward."
Mr Umunna also told FE Week that the details of which qualifications would qualify learners for his party's proposed "apprenticeship guarantee" would be announced once his party is in office. The party has so far only said that those with two A-level passes or equivalent qualifications would be eligible.
He said: "In terms of the detail around that we will announce that when we get into government. I'm not going to go through the list right now because I can't.
"Of course, when you put in place a guarantee you have a set of criteria that you reference your guarantee to, but I can't give you a whole list of the qualifications now if that's what you're asking me to do."
Labour also used the event to announce plans to divert £50m from the government's widening access and participation fund to pay around 1,000 trained careers advisers, who will each work with clusters of two or three schools, in order to guarantee "face-to-face" careers advice for all learners from the age of 11.
Main pic: From left: Labour leader Ed Miliband,
Shadow business secretary Chuka Umunna.
Picture Chris Radburn/PA
Labour's manifesto pledges for skills
Deliver a new gold-standard technical baccalaureate for 16 to 18-year-olds
Ensure all young people study English and maths to 18
Raise standards in FE, with new institutes of technical education
Guarantee all young people face-to-face careers advice
Give every young person that gets the grades has the right to a high quality apprenticeship
Introduce new technical degrees delivered by universities and employers