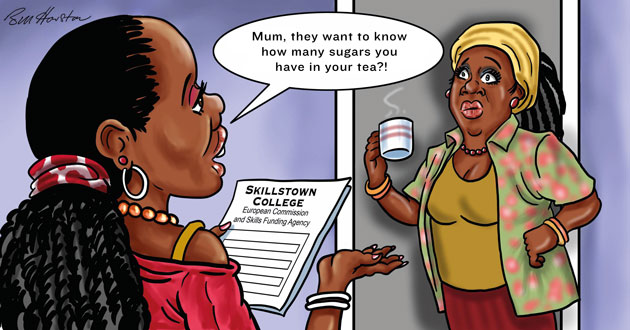 The European Commission has been accused by a civil rights group of "overstepping the mark" in making FE learners say if they are from single parent households.
Final guidance on data requirements for 2015/16 individualised learner records (ILRs), published last month by the Skills Funding Agency (SFA), revealed that providers will have to collect information on the 'household situation' of students for the first time.
It will include checking if learners are from a household containing only one adult and one or more dependent children, and if anyone they live with is unemployed.
The document, entitled Specification of the ILR for 2015 to 2016 (Version 2), stated that the information "must be collected in the form of a self-declaration from the learner, signed by the learner to confirm it is correct".
It said: "The household situation must be collected for all European Social Fund (ESF) funded learning aims that start on or after August 1."
It added providers would also have to collect the information from learners involved with "all adult skills funded and other SFA-funded learning aims", as they could potentially be eligible for ESF match funding.
But Andrew Allison, head of campaigns for civil rights campaign group The Freedom Association, said: "The employment status of a household, or whether or not someone is a single parent, is personal information, and it is too much to expect potential students to divulge this information simply to enrol on a course.
"It could also mean some will be put off from enrolling because of this requirement, which will be not only detrimental to them, but the wider economy.
"The European Commission is overstepping the mark [by making the SFA collect household situation data]. The government should stand up to the bureaucrats who came up with this."
An SFA spokesperson said it had been forced to start requesting household situation data to meet European Commission requirements for ESF funding.
A European Commission spokesperson said: "In order to ensure closer monitoring and improved assessment of the results achieved by actions supported by the ESF, a common set of output and result indicators has been established [since December 2013].
"The information will help to monitor the support of the funds to the most vulnerable family groups."
Joe Vinson, National Union of Students vice president for FE, said: "While you might well have to ask personal information for example about an individual's family background to effectively target funding, it is incredibly important that this is undertaken carefully and sensitively, and that there are clear assurances that this information will otherwise remain confidential."
When asked if the data could potentially be passed to other agencies and used against single parents and the unemployed, the European Commission spokesperson said: "Individual participants' data is protected by national and EU data protection rules. They are processed and aggregated to indicators. Only those indicators are reported."