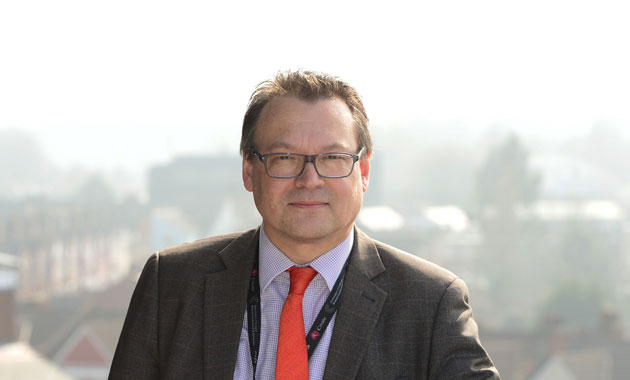 Providers have been warned to be vigilant after another attempted scam hit the sector.
Andy Cole (pictured), principal of the College of North West London, told FE Week how this month he was invoiced for a fictional United Nations (UN) programme.
And just two days before Christmas another phoney invoice, claiming to be from within the college, had demanded more than £100,000.
"I'm seeing a lot more stuff like this happening and hearing about it from other principals" Mr Cole told FE Week.
"It's not just scams but stuff that's getting past firewalls — we've got a pretty good one but we're still seeing it."
On Wednesday March 11, Mr Cole received an email claiming to be from the UN, asking for payment for a programme he had made an "irrevocable" commitment to — despite Mr Cole never having heard of the programme.
And on December 23, the college received an invoice claiming to be from within the college itself for £100,440 for money spent on railway engineering equipment — a key area of business for the college.
"It wasn't college paperwork, but it was very convincing," said Mr Cole. "If I was new to the college, I'd think 'that's credible, maybe that's our paperwork'."
The case was handed over to police but FE Week understands no further action has been taken.
"Our controller won't let anything from anybody – including me – through if it isn't 100 per cent compliant with our policies and procedures," said Mr Cole.
He added: "The greater concern is the potential for electronic messages that get through any firewall containing a virus."
Mr Cole's comments follow a string of attempted scams to have hit the sector.
Last month, FE Week reported on a fraudulent email sent to Westminster Kingsway finance staff, claiming to be from college principal Andy Wilson, requesting an urgent payment.
And the Colchester Institute was hit around the same time by con artists posing as the contractors carrying out £5.8m worth of building work actually being carried out on campus.
In January at least eight colleges were targeted by a man calling himself Brian Hall who claimed to be a bailiff on the way to collect a fictional £7,000 debt. It is understood no colleges handed over money.