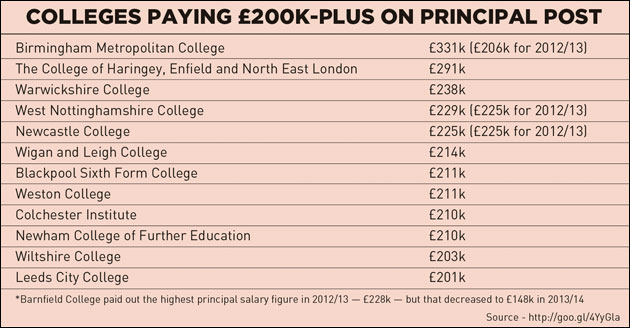 The number of colleges paying out upwards of £200k on their principal posts rocketed threefold last academic year, FE Week can reveal.
The Skills Funding Agency (SFA) published the 2013/14 college accounts during the Easter holidays and FE Week analysis shows that a dozen colleges handed over more than £200k in salaries to principals — up from just four colleges the previous year.
Andrew Harden, the University and College Union's head of FE, said his members would "understandably be unhappy" to learn of this "considerable increase" — particularly as they were now being told there was "not the money for a fair pay rise".
He told FE Week: "There cannot be one rule for them [principals] and one for everyone else."
But the salary payments were defended by Martin Doel, chief executive of the Association of Colleges, who said: "The role of principal has become significantly harder in a number of ways and it is important that their pay reflects their senior business management role."
The three highest sums that the 2013/14 college accounts said had been spent on principals' salaries were £331k by Birmingham Metropolitan College (BMet), £291k by the College of Haringey, Enfield and North East London (Conel), and £238k by Warwickshire College.
A spokesperson for grade two Ofsted-rated BMet, which received £21.3m adult skills budget (ASB) funding in 2013/14, said: "The pay settlement for BMet's principal in 2013/14 reflects two salaries for an overlapping period of time [May to July 2014]; both that of outgoing principal Dame Christine Braddock DBE and incoming principal Andrew Cleaves.
"In 2013/14, the outgoing principal was paid £271k. Of this, the base salary was £189,946. The balance consisted of a bonus payment and a further payment related to handover. The incoming principal was paid £60,000 for the period May to July [while Dame Braddock was still in-post]."
A spokesperson for grade two Ofsted-rated Conel, which received £21.6m ASB funding in 2013/14, said: "The figure of £291k relates to a period when the college employed an interim principal [Jane O'Neill] to cover during the period of the principal's [Paul Head] illness last year, prior to his death in service [last September]."
A spokesperson for grade two Ofsted-rated Warwickshire College, which received £5.5m ASB funding in 2013/14, said: "The change in the salary of the previous principal [Mariane Cavalli] was primarily to do with the way in which pension contributions were paid.
"The 2013/14 salary figure, minus this additional contribution, for the previous principal was £196,365 and was agreed with the governing body."
The SFA's college accounts for 2012/13 stated that Ms Cavalli's salary for that academic year was £197k, which the college has now told FE Week did not include pension contributions.
Sue Georgious, who was previously the college's chair of governors, was appointed interim principal after Ms Cavalli stood down at the end of 2013/14.
The SFA's 2012/13 college accounts also showed salary payments to principals amounting to £206k for BMet and £145k for Conel during that academic year.
Editor's comment
Victory for 'them and us'
It's a well-publicised fact, at least within the sector, that budgets are getting ever and almost unmanageably tighter.
Courses will be cut, buildings will be sold, mothballed or simply remain a pipedream, and staff will lose their jobs — some at risk of unemployment might be lucky enough to cling onto a post, but at lower pay.
The warnings of industrial action and their even uglier fruition often utilise the issue of principals' to capitalise on a 'them and us' attitude.
So to learn of a threefold increase in the number of colleges paying out in excess of £200k on the salary of their principal's post comes as a huge blow in light of the unquestionably dark days we face.
Nobody's denying the stress of the top job warrants just financial reward. Indeed, the stresses over the next few years will be such that it's likely many at the top may think it not worth the worry (and in so doing add to the number of opt-out principals accepting pay while their interim replacement also gets paid).
But what we have been left with by this increase, sadly, is the impression of a sector in which those at the top move ever further away from those looking up.
For FE — with its rich social mobility pedigree — of all sectors, this is not how it was meant to be.
Chris Henwood
FE Week editor