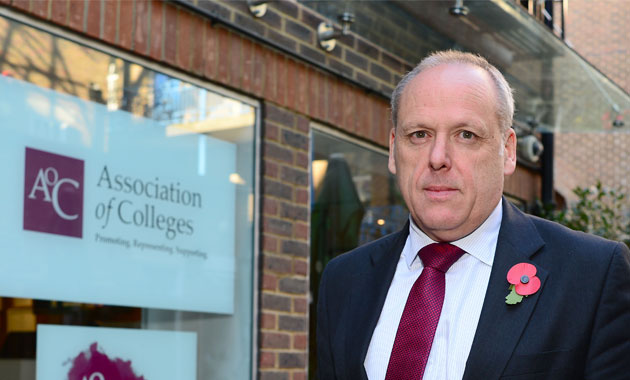 The Association of Colleges (AoC) has demanded an inquiry by MPs in the next Parliament into a "waste of scarce funds" after figures revealed the government's employer ownership of skills pilot has resulted in just 37 per cent of desired starts.
A review of the early stages of the £340m pilot, which aimed to involve employers in the design of skills training by giving them public money to combine with their own investment, has revealed that starts were at 37 per cent of the 10,000 apprenticeships and 90,000 non-apprenticeship qualifications originally planned in grant offer letters from the Department for Business, Innovation and Skills (BIS).
The review, commissioned by BIS and carried out by CFE Research, the University of Sheffield and Qa Research, has led to criticism of the project by the AoC and Association of Employment and Learning Providers (AELP), with AoC chief executive Martin Doel (above) calling for a Public Accounts Committee (PAC) investigation.
Mr Doel said: "We've always had considerable doubts about the employer ownership pilot, and it gives us no pleasure to note that the recruitment of students to training was only just over one-third of that which was expected.
"Financial contributions to skills education or training from employers were also mostly in-kind and the project's sustainability is an ongoing concern.
"We hope the next government learns lessons from this expensive failed project, which was based upon unsubstantiated assertions and unrealistic assumptions rather than hard evidence.
"This project should be scrutinised by the new PAC, not only in relation to the waste of scarce funds but also the approach to policymaking that it embodied."
As well as disappointing numbers in terms of starts, the review also revealed that five of six projects with targets higher than 300 apprenticeship starts were led by an intermediary rather than a single employer or group of businesses, and three of these achieved just 4 per cent of their target.
The report continued: "Only a minority of projects met or exceeded their target for both apprenticeship and non-apprenticeship provision, which shows that recruitment of learners has been a key challenge across all of the projects.
"Data from the interviews suggest the majority of employer investments were in-kind (mostly in staff time).
"Moreover both government investment and employer contributions are behind the expected expenditure profile, which is a direct consequence of the under-recruitment of learners."
AELP chief executive Stewart Segal (left) said: "We have been calling for a review of the Employer Ownership Pilots for some time.
"We know there were a number of issues in setting up these pilots and the results are disappointing.  Some of the pilots have been successful but overall they have delivered only a third of the results that were set out in the projects.
"There are a number of lessons that can be learned from the projects including the fact that delivering to those aged 16 to 24 has been even more difficult for employers. We should also understand that most of the contributions from employers have been in kind and these are large companies.
"We should learn this lesson when looking at the proposals for the apprenticeship programme. In our view the funding for these pilots should be included in the mainstream support for apprenticeships and traineeships rather than setting up expensive pilots which have not delivered.
"The £340m set aside for employer ownership pilots would have made a big difference to the apprenticeship programme where one of the biggest barriers to growth is the budget."
Any investigation by the PAC would have to be commissioned by the new committee, which will be elected by the new Parliament following next month's general election.