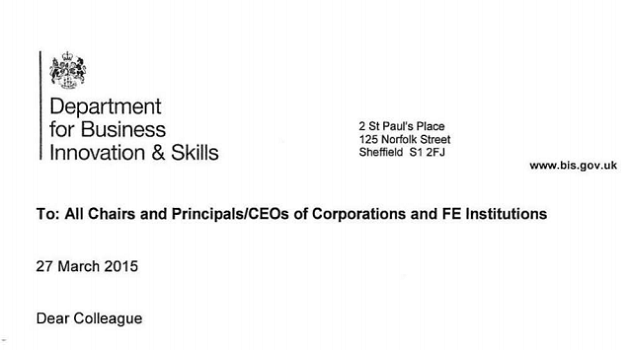 College governors should be on the look out for warning signs of financial trouble or performance problems, FE Commissioner Dr David Collins has said.
Dr Collins (pictured below right) has written to all boards, principals and chief executives with a list of potential early warning signs within an FE institution, and said the signs had been present in the "20 or so" colleges he has visited since taking up the job in November 2013.
The document is aimed at getting colleges to be more aware of their weaknesses instead of waiting for a financial notice of concern from the Skills Funding Agency or an inadequate Ofsted rating.
He said: "Few people, if any, would argue against the fact that prevention is better than cure and in the twenty or so assessments undertaken to date warning signs have been apparent well before an intervention has been triggered.
"So what might boards be looking for in particular to suggest that a financial notice of concern or an Ofsted 'inadequate' report might be on the way?
"The following list is not exhaustive but highlights some of the areas discovered to date where an early questioning of the principal and/or senior team might prevent the situation from becoming worse."
Dr Collins outlined 20 areas, under headlines including financial and organisational. He said boards should be wary if financial forecasts were repeatedly "significantly different" to outurn, if management accounts showed significant swings or variations or if borrowing as a percentage of college turnover exceeded 60 per cent.
Other warning signs flagged up in the letter included staff costs in excess of 65 per cent of turnover, a lack of "systematic" engagement with employers, attendance rates below 85 to 90 per cent or if student surveys or focus groups show levels of satisfaction below 90 per cent.
More generally, Dr Collins said board members should be wary if they were discouraged from formally meeting and discussing the college's performance with students and staff or if minutes and ensuing actions from senior management team meetings were not published or did not cover the key issues faced by the college. He also said "annual rather than occasional" restructuring should set alarm bells ringing.
It comes after the Department for Business, Innovation and Skills (BIS) said principals would have to wait for more struggling colleges to emerge successfully from the FE Commissioner process before guidance on how his intervention ends would be published.
A report published on March 25 by BIS, entitled An Evaluation of the Further Education Commissioner-led intervention process summary report, made a number of recommendations as to how college underperformance and checks by commissioner Dr David Collins (pictured above) could be improved.
The report called for "more clarity" surrounding how intervention, which includes "stocktake" progress reports by the commissioner and a Case Review Group to consider ending the process, might be brought to a close.
It said that "to date, only one college [City of Liverpool College] has been removed from intervention. As the circumstances for each intervention differ from case to case it is agreed that more definition or clarity around ending intervention by the FE Commissioner would be welcomed".