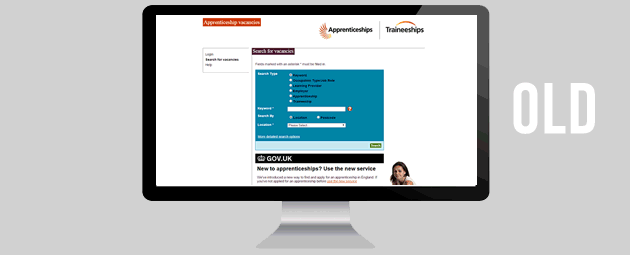 Concerns that two official internet search engines for apprenticeships were causing confusion among potential applicants are expected to be resolved when the old website is taken down in just over a month.
The Skills Funding Agency (SFA) has kept the old National Apprenticeship Service (NAS) vacancy matching website running while its replacement, which went live in December, is tested and developed.
The SFA was unable to give FE Week a firm date three months ago for when the old site would be taken down, saying that it would be "after April".
But an SFA spokesperson said today "the new 'Find an apprenticeship' system will run as NAS's sole search facility for apprenticeship vacancies from May onwards".
She added: "People using the old apprenticeship vacancy system will be redirected to the new site, where they will be encouraged to create a new account, from May.
"In the meantime, developers will continue to work closely with candidates and careers advisors to continuously improve the service."
It comes after FE Week reported in January on concern among users about the two sites throwing up different search results.
And an example search on the old site today uncovered 2,180 apprenticeship vacancies in London compared to just 727 on the new site.
An SFA spokesperson said the differing figures were down to the old apprenticeship vacancies service automatically searching for vacancies within a 10-mile radius of the requested location.
The new site, however, operates a five-mile radius default, unless users change the radius. The default radius on the new system had been two miles in January.
David Hughes, chief executive of the National Institute of Adult Continuing Education (Niace), said: "I'm pleased that any confusion [over the two websites running simultaneously] will now be cleared up.
"It is good news for people searching for apprenticeship opportunities that the website search system is being modernised and improved, but it is important to remember this is just one of many ways that need to be looked at of helping people navigate their way towards adult training."
A spokesperson for the Association of Employment and Learning Providers said: "It is good that there will only be one website search engine from May, as it will stop any potential confusion and hopefully direct more people to apprenticeships than ever."
Click here to use the new search service.