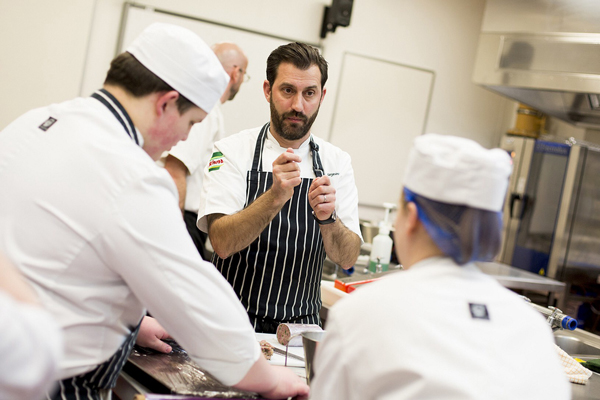 Trainee chefs at Newcastle College were treated to a masterclass and the opportunity to cook with Michelin-starred chef Mark Sargeant.
The former National Chef of the Year, who worked alongside Gordon Ramsay for 16 years and has appeared on television shows including Hell's Kitchen, Saturday Kitchen and The F Word, visited the college to cook for guests in its commercial restaurant — the Chefs' Academy.
Working alongside the professional cookery students, Mr Sargeant treated diners to a menu which included jellied ham hock with piccalilli, fillet of cod, spinach and a muscle and celeriac broth and ending with a custard tart with blackcurrant sorbet.
Andy Brown, course leader at Newcastle College's lifestyle academy, said: "Our evening with Mark was a phenomenal success and a one off opportunity for our students to work alongside one of the country's best chefs.
"It's important for the learners to understand how a professional kitchen operates and to have the opportunity to work with industry and get the knowledge that just cannot be taught in the classroom."
Pic: Michelin-starred chef Mark Sargeant giving a masterclass to trainee chefs at Newcastle College