Providers and employers who said no to government cash for apprenticeship training going through businesses have won the fight to keep the flow of funding between government and providers.
Chancellor George Osbourne's Budget on Wednesday (March 18) fleshed out the new plans, trailed the day before by Number 10, for a "digital apprenticeship voucher" to be in place from 2017.
The announcement followed two government consultations on apprenticeship funding reform over the last two years — the first of which uncovered support for the current system of channelling funding between government and providers from 213 of 366 respondents.
But the option was not mentioned in proposals laid out as part of the second consultation, which considered a PAYE model and a credit account model of funding — both of which were rejected with added bureaucracy among concerns.
The government finally decided on the voucher scheme, which a spokesperson said would give employers "purchasing power" — but actual government cash to pay for training will go straight to providers — and not into employers' hands first.
John Walding, from the Forum of Private Business, said: "We hope that the proposed changes continue the focus on what the employer wants, and that training organisations respond to customer needs and use their expertise to complete the form-filling and administration involved. If this happens, this will be a victory for both employers and education providers."
John Allan, National Chairman of the Federation of Small Businesses, said: "We are pleased that the government has made a decision on the design of the funding model after listening to concerns from stakeholders, including the FSB. This has led to a result that works for small firms."
Association of Employment and Learning Providers (AELP) chief executive Stewart Segal said he was "pleased" the government had listened to feedback from employers and providers, but called for clarity over the new plans. He said: "We have always said that employers need to control funding but that they can do that through a training provider."
He added: "There are still details to be agreed and we're very pleased the government wants providers as well as employers as part of the stakeholder process to come up with the detailed design of the model."
David Hughes, chief executive of the National Institute of Adult Continuing Education, said: "It will be interesting to see the full details of this and to monitor whether this approach convinces employers to take on apprentices for the first time. It is clear from consultations from across the sector that the proposals for change were problematic, including the idea of channelling funding through National Insurance rebates, and that many existing apprenticeship employers seemed happy with the way funding flows currently."
But the Association of Colleges (AoC) warned that the new proposals were "superficially simple" and would "add bureaucracy" to the process of taking on an apprentice. Chief executive Martin Doel said: "It might be an improvement on the government's earlier proposal to use the PAYE system, but we are unconvinced that these reforms will lead to more public and private sector employers taking on an apprentice."
The Budget document also confirmed that the government would proceed with plans to demand contributions towards training costs from employers.
David Harbourne, director of policy and research at The Edge Foundation, said: "We know from research published by BIS that some employers will be put off by mandatory contributions, and might stop employing apprentices? We need clarity on this — the sooner the better. Finally, when will colleges and providers be told how and when to cash in the voucher? I hope the system will be easy to use, but we can't be sure until we've seen the fine print."
Main pic: George Osbourne
————————————————————————————————————————————–
Funding cuts petition
A petition against cuts of up to 24 per cent to the FE budget has collected more than 18,000 signatures.
The petition at fefunding.org.uk was launched by the University and College Union and is supported by groups including the Association of Colleges, 157 Group, Association of School and College Leaders, Trades Union Congress and National Union of Students. It has also been signed by FE Week reporters and editor Chris Henwood.
It was launched in response to an announcement this month that the adult skills budget faced cuts of 24 per cent or more in 2015/16, with many organisations warning such a cut would place providers in financial difficulty.
It comes after concerns were raised about the impact an extra £12bn of cuts to departmental budgets between 2016 and 2019 announced in Wednesday's budget would have on FE. See feweek.co.uk for more.
————————————————————————————————————————————–
Minimum wage increase puts benefits on table
Apprentices have been guaranteed access to sick pay and paid parental leave thanks to a 20 per cent rise in their minimum wage to £3.30 an-hour.
Downing Street announced the inflation-busting rise in the apprentice minimum wage, from £2.73 an-hour from October, on Tuesday (March 17) before the Chancellor George Osborne gave more details in his Budget the following day.
Based on current Department for Work and Pensions rules, the rise will mean that apprentices paid the minimum wage and working 34 hours a-week or more would earn above the £111 a-week threshold for statutory sick pay as well as maternity and paternity leave. They will also qualify for pay if they take time off to adopt a child.
On the old rate, apprentices on a 40-hour week minimum wage only earned £109.20 a-week.
National Union of Students vice president for FE Joe Vinson tweeted on Tuesday: "Rise in the Apprentice National Minimum wage means all apprentices now eligible for sick pay, maternity and paternity pay and adoption pay."
He later called for a greater rise, saying: "It's important to remember that a 20 per cent rise actually isn't very much when your current wage is just £2.73 an hour. It's certainly a step in the right direction though."
David Hughes, chief executive of the National Institute of Adult Continuing Education, said: "We are pleased to see this much-needed pay rise for apprentices, although it will still be half of the National Minimum Wage [rising from £6.50 to £6.70]. I am concerned about its enforcement and would like to see the government take concerted action to ensure all employers pay it."
The Low Pay Commission (LPC) had recommended a 7p (2.6 per cent) increase.
John Allan, Federation of Small Businesses national chairman, said: "The move to significantly increase the apprenticeship rate will have to be monitored closely."
He added: "Many employers would have preferred to see a rate more in line with the LPC's recommendation."
David Norgrove, LPC chair, said: "We are disappointed the government has not accepted our recommendation on the level of the apprentice rate. We based our judgement on a careful assessment of the evidence, seeking to benefit apprentices while also protecting the supply of places."
Elsewhere in the budget, the government promised to devolve more power over skills to regions including West Yorkshire and London, but the implications for the FE sector have yet to be set out.
————————————————————————————————————————————–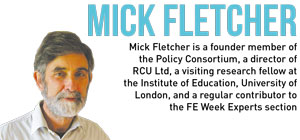 A Budget for drinkers not thinkers
Budget 2015 said very little about FE. In another sense however it said a great deal.
The choices the Chancellor made, ignoring a mounting crisis in our FE system while frittering millions on pre-election give-aways spoke volumes about his priorities.
For instance the Chancellor cut the duty on spirits by 2 per cent at an annual cost of £100m. That's about the same sum recently saved through cutting the funding rate for 18-year-olds by 17.5 per cent — a cut disproportionately hitting the disadvantaged and low achievers.
It's an odd society that cuts £700 from the education of every 18-year-old just to knock 16p off a bottle of whisky.
It's not the only odd choice. The Chancellor spent £85m exempting children from Air Passenger Duty. That's more than twice the cost of abolishing the 'Learning Tax' whereby sixth form colleges pay VAT that schools and academies don't.
The average sixth form college will continue to pay £335k per year on VAT, cutting the teaching hours of A-level students just so families can save £13 on flying a five-year-old to Malaga.
Researchers recently showed that 16 to 18-year-olds in our schools and colleges are systematically short-changed compared to those in almost all other advanced countries; our ' full time' programmes have around half the teaching hours of high performing jurisdictions like Shanghai and Singapore.
One reason for this is the abolition of the entitlement which cut the funding for 84 hours 'enrichment' per year from full time programmes.
Half of that could be reinstated for £250m but the chancellor used the money instead to stop the rise in fuel duty this autumn; an increase that would hardly be noticed when oil prices are plummeting.
Repairing recent damage to 16 to 18 education was not the only option the chancellor overlooked. He could have plugged some of the gaps appearing in adult FE where over a million learning opportunities have been lost since 2010.
The average cost of a place in adult FE is around £670; so the £85m spent reducing the price of beer by a penny a pint might instead have provided places for 125,000 adults. So could the money spent subsidising 'Granny bonds' for pensioners with cash to spare.
It's a sad day for skills when investment in booze and foreign holidays is deemed more important than supporting FE.