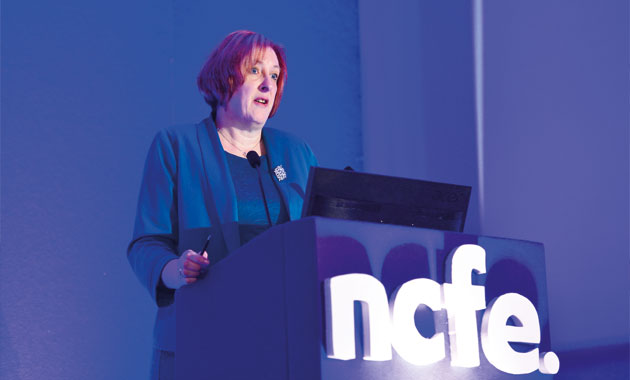 Labour's pledge to axe apprenticeships at level two  came under attack once again when Shadow Junior Education Minister Yvonne Fovargue spoke at NCFE's policy conference in Central London.
Ms Fovargue told delegates at the Delivering on learner outcomes: spotlight on youth employment conference that level two was still "valued" but needed to be "rebranded" to protect the apprenticeship brand — however delegates and fellow panellists questioned whether the plan was "realistic".
The event on Tuesday (March 17) came just a week after Labour's Shadow Business Secretary Chukka Umunna faced an audience similarly sceptical towards the policy at the FE Week Annual Apprenticeship Conference.
Ms Fovague told the NCFE conference that all of the 80,000 apprenticeships a-year Labour had promised to create in the next parliament would be level three or above.
"That does not mean level two is not valued but that level two will not be branded as an apprenticeship," she said.
"It doesn't matter what it's called, it needs to be there as a stepping stone, but an apprenticeship needs to be recognised by an employer at an A level, and they know what it is."
However, she admitted that neither she nor Mr Umunna and Shadow Skills Minister Liam Byrne knew what the level two qualification would be called.
Conference chair and BBC broadcaster Kirsty Lang asked if it was "realistic" to abolish level two apprenticeships, given many jobs in care and construction were at level two.
However, Ms Fovargue denied this was the case, and argued that workers would still need level three to allow them to progress.
Ms Fovargue acknowledged there had been a lack of "consistency" in qualifications for young people, and was challenged by fellow panellist Laura-Jane Rawlings, chief executive of charity Youth Employment UK, who said Labour's plans would add to the inconsistency.
However, Ms Fovargue argued the move would ensure "the brand of apprenticeship is consistent".
Ms Rawlings, whose charity helps young people into work, said inconsistency over qualifications had led to confusion among employers.
"Who's educated our employers to be able to translate the qualifications on a young person's CV?" she said.
"We're constantly changing grade boundaries or the names of qualifications, so when they get a CV in from a young person who might have a diploma or a BTec or NVQ or a GCSE or a grade two, what does that mean?
"Because actually you probably need to be an education specialist to understand it."
Ms Rawlings also revealed youth unemployment could be a bigger problem than official figures suggest, as if young people did not 'sign-on' for benefits, but were supported by friends or family, they would not be included in the statistics.
"The Fabian Society earlier this year estimated that alone in London 15,000 young people were unaccounted for," she said.
"Across England, it could be 50,000 so the national figure of 750,000 doesn't take in those hidden unemployed people."
One of the key problems she said, was careers advice — and her comments were backed by findings of an NCFE survey, released at the conference, which found nearly a quarter (24 per cent) of respondents were not fully informed of their options and only 18 per cent would even consider taking on an apprenticeship.
The survey also revealed 48 per cent thought youth unemployment should be the top priority for the next government.
Liberal Democrat peer Lord Storey said that in government, his party would like the National Careers Service to provide "high quality careers advice" which was "available to all when needed", as he said it had been originally intended to do.
He added the party would reinstate the legal requirement for young people to gain work experience, as well as encouraging school children to visit workplaces, FE colleges and universities "so these are not just words they know nothing about".
Ms Fovargue said Labour would set up careers "hubs" to offer careers advice, which she said "would be a top priority for the Labour government".
However, Lord Storey pointed out the content of party manifestos was not the only important factor, but also "what goes actually from those manifestos into government at the end".
Ms Rawlings agreed, adding: "Whatever government we get needs to make sure that they spend time talking to practitioners."
Main pic: Shadow Junior Education Minister Yvonne Fovargue