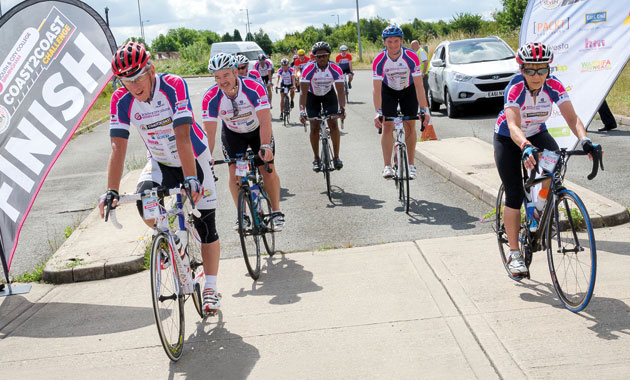 Mount Everest has nothing on a group of cyclists from South and City College Birmingham (SCCB) who scaled 10,000ft more than the tallest mountain in the world for a challenge that raised more than £30,000 for Teenage Cancer Trust, writes Billy Camden.
Travelling 805 miles from the edge of Cleethorpes in Lincolnshire over to Ireland and back was no easy ride but it was a worthwhile one for SCCB principal Mike Hopkins and his team.
The team's effort saw them scale 41,000ft — 10,000 more than Mount Everest —as they raised a total of £32,099 for Teenage Cancer Trust.
"I am really proud of what the staff and students at the college and our supporters managed to achieve, not only completing one of the toughest cycle routes I have ever ridden, but also raising such an incredible amount," said Mr Hopkins.
The event was part of a Coast2Coast challenge which saw over 40 cyclists cycle across the UK taking in the hills of Wales, Ireland and England with each stage being dedicated to a young person who has suffered from cancer.
The 40 included Mr Hopkins and construction lecturer Tony O'Hare from SCCB who rode the entire distance in a total of 55 hours, 47 minutes and 22 seconds over the course of seven days.
Three other staff members Paul Clarke, Stuart Kingscote and Sean Chisholm joined the team at different stages while a backup team of support staff followed in their cars with students filming the entire ride.
An enthusiastic and competitive cyclist, Mr Hopkins has completed other cycle events in the past including a 1,000 miles in 10 days ride from John O'Groats to Land's End.
But this was his most challenging yet.
"This was the hardest ride I have ever done mainly because of the mileage and terrain which was phenomenally hilly for the whole route," said the 56-year-old.
"The pain some of the cyclists went through and what they endured is unbelievable.
"There were a couple of days where people were almost in tears and they were physically dying and they still had another 20 or 30 miles to go over big hills but they kept going because they knew they were raising money for charity and everybody pulled together to make sure people got through."
One of the event organisers and part of the backup team, Steve Dourass, business and community manager at SCCB, said: "It was a good small core group of riders with a lot of camaraderie at the end with everyone egging each other on.
"It was a great experience for us all, not just the cyclists but the backup team as well."
The college has since handed over the cheque to Teenage Cancer Trust alongside staff and supporters who took part in the challenge which included Steve Staunton, a former Aston Villa football player.
Mr Hopkins added: "Young people's futures' is a subject close to our hearts here at the college — whether that is their education, or helping them beat cancer.
"I hope the money we have raised will help improve the experience of young people who are fighting the disease."
Main pic: Team SCCB ride off on their coast2coast challenge