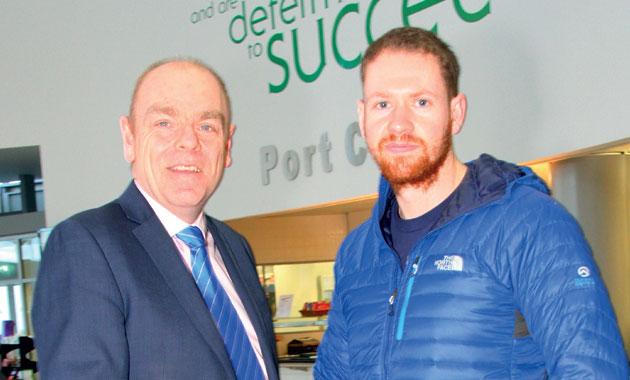 Not even wild polar bears will stop West Cheshire College learner and former soldier Peter Bowker when he takes on a world record attempt of being the first amputee to complete the unsupported crossing of the Greenland ice cap, writes Billy Camden.
Facing -37˚C temperatures over a 600-kilometre trek 27-year-old counselling learner Peter Bowker will rely on his specialist army training to overcome the obstacles in his way.
He takes on the world record attempt to become the first amputee to complete the unsupported crossing of the Greenland ice cap on May 5 to raise money for a charity close to his heart, Help for Heroes (H4H).
"I left the army in 2012 so I understand the amazing work that H4H does and I wanted to do something different to raise money for the charity," said Peter.
"I haven't set a specific target, we just want to raise as much as we can."
He added: "People who have done this type of challenge before say it is 10 per cent physical and 90 per cent psychological, and for me, coming from a military background, I think gives me a good base level of psychological readiness."
Peter will lead the '65 degrees north' project, a six-person team undertaking the 30-day trek.
It has gained support from the Endeavour Fund, a Royal foundation set up by the Duke and Duchess of Cambridge and Prince Harry, as well as backing from celebrity Ross Kemp as a patron.
Travelling on skis and pull pulks containing food, clothing and survival equipment, the team is expecting to come face-to-face with resident polar bears and deep crevasses.
Peter said: "We have to assess what the risks and dangers are and what the possible outcomes can be. I have accepted the element of risk and am determined to complete the expedition."
Peter's right leg was amputated after an explosion in Afghanistan in 2008.
Travelling in an armoured vehicle called a Mastiff, Peter's team hit an
IED road side bomb resulting in him badly injuring his
foot and ankle and shattering his femur.
He spent three and a half years at Headley Court rehabilitation centre where he was eventually told that he would lose his right leg.
"What affected me the most was being surrounded by so many seriously injured young men for that length of time, it changed me quite a lot," said Peter.
"After that experience I made some really drastic personal changes and now make the most of the life I have because when you see it being taken away from so many people it really does change your outlook and perspective on life."
Since his return from rehabilitation, Peter made it his goal to help others.
In 2013 he completed a trek to Peru and then took part in an event called Heroes Challenge UK, a cycle from John O'Groats to Land's End via the four highest peaks of each country in Great Britain and Northern Ireland.
He joined West Cheshire College to study a counselling and psychotherapy central awarding body (CPCAB) intermediate certificate in counselling studies with a view to using the qualification as a stepping stone to university and the pursuit of a career in the profession.
Visit www.bmycharity.com/65degreesnorth to make a donation to 65 Degrees North.