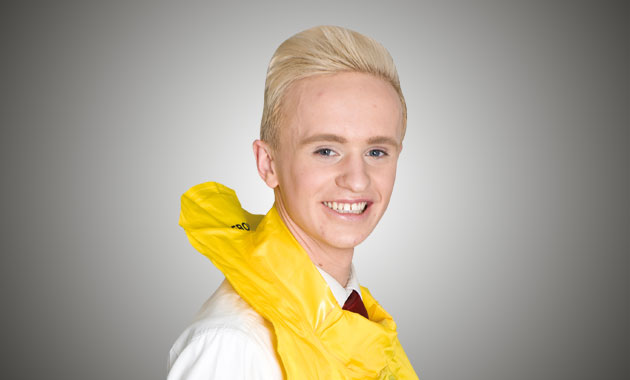 The sky was no limit for ex-college learner Stephen Greenall as he scaled the heights of Canada's second tallest building to prove he could take on one of the toughest jobs in the world, writes Billy Camden.
Looking down from the 180-metre high Plaza Bank Building skyscraper, Stephen Greenall's mind turned back to the comfort of his Warrington Collegiate circle of friends.
The 19-year-old's journey from a BTec national diploma in aviation operations to the top of Canada's second highest building, in Toronto, features on BBC3 tomorrow night.
He applied to take part in the World's Toughest Jobs programme and was accepted to take on the role of window cleaner.
"When the BBC told me I was going to Toronto as a skyscraper window cleaner. I was shocked, excited, nervous and speechless," said Stephen.
"At times I just wanted to be back with my friends at college. I went through a whole rollercoaster of emotions," he added.
Filming took place over the course of two months from March last year, with Stephen completing his college studies upon his return to the UK.
Each of the six 60-minute episodes follows the journey of three 18 to 24-year-old Brits as they leave the UK in a bid to take on some of the world's toughest jobs.
Stephen met up with his episode's two co-stars — Dom Monk, aged 25, and Darci Tesfay, 23 — in Canada and after intensive training, lots of practice and health and safety checks the job began.
"When I was working up so high I felt like I could see the whole world. It was absolutely breath-taking," said Stephen.
"As you climb up the ladders you open this little door and all you see is blue sky. The sun feels amazingly close. It just leaves you speechless."
And his college aviation studies came to his rescue when he needed them the most.
"When I was climbing over the edge of the building I did cry a lot," said Stephen.
"However once the container started moving, I just went in to cabin crew mode telling myself not to worry, and imagined they were turbulence."
Diane Lewis, lecturer in aviation at Warrington Collegiate, said: "I'm really proud of Stephen and everything that he's achieved.
"He was a student who stood out from the start. Outgoing, determined, with a great personality I always knew he would be exceptional both in the classroom and beyond."
World's Toughest Jobs will be televised on Tuesday, March 10 at 9pm.
Main pic: Stephen Greenall at Warrington Collegiate on his aviation course