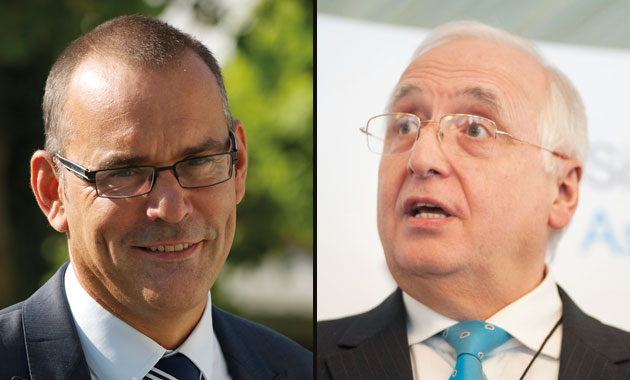 A Hampshire sixth form college has had to go back to the drawing board in its search for a partner with Sixth Form College Commissioner Peter Mucklow having warned it could not function alone financially.
Totton College principal Mike Gaston (pictured below, left) announced in December that his college would be seeking a partnership and Eastleigh College had emerged as a favourite.
But Eastleigh rejected the move this month following a governors' board meeting.
A Totton spokesperson told FE Week: "Eastleigh College has been in discussion with the Education Funding Agency [EFA] regarding merger with Totton College.
"They have now had the opportunity to model the impact of a closer relationship and following their recent corporation board meeting have decided not to proceed."
Mr Mucklow visited the 3,000-learner Totton College, which was deemed by Ofsted to require improvement a year ago and has an EFA allocation of £5.4m, in October after concerns were raised about a lack of improvement since it was issued with a financial notice to improve.
He warned the college, which also runs adult provision with a £2m Skills Funding (SFA) allocation and through subcontracting, faced an "immediate" crisis with the SFA seeking to claw back funding allocated for 24+ apprenticeships never delivered.
In response, Totton had been in talks over a potential merger with 14,000-learner and grade one Ofsted-rated Eastleigh College, also in Hampshire, which has a current SFA adult skills budget allocation of £16m.
The Totton spokesperson said, having missed out on the Eastleigh merger option, it was working the EFA "to agree a solution that is considered to be in the best interests of its students and our community".
"We have been advised by the EFA to continue recruiting for September 2015 intake. It's important to highlight that meeting students' needs will be at the heart of any decisions. We are still looking for a partner to realise the college's ambitions for future stability and growth," she said.
A spokesperson for Eastleigh College said: "In any merger situation we would want to deliver the same outstanding level of provision for learners at all the sites while achieving the necessary economies of scale.
"We were unable to see how this would be possible in this instance. Therefore we have now withdrawn from the Totton College process."
A DfE spokesperson said: "We are aware that Totton College's preferred partner has withdrawn. The EFA is now working with the college to agree a solution that is in the best interests of its students and the community.
"Discussions are still ongoing and it would be inappropriate to comment further at this stage."
David Igoe (pictured below, right), chief executive of the Sixth Form Colleges' Association, said: "It's sad to see another sixth form college get into financial difficulties and not table to find a suitable partner to aid its recovery."
He added: "This college's plight highlights the general problem which we have been at pains to point out to Government, that the funding settlement for 16 to 19 is insufficient for many colleges to continue to offer the kind of education that young people need.
"We need a fundamental review of the way all state education is funded to ensure that young people at every stage and age gets the educational opportunities
they deserve."