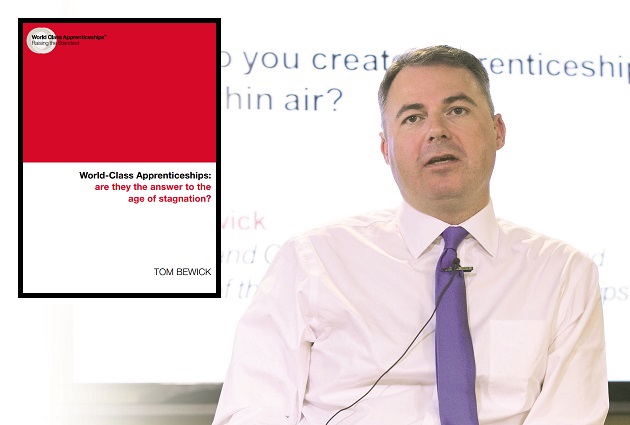 World class apprenticeships should be developed to solve a "productivity shortfall", the International Skills Standards Organisation (INSSO) has claimed.
In a report based on research in the UK and overseas, INSSO chief executive Tom Bewick calls for a "real debate about whether continued university expansion is the best policy choice for the 21st century".
He says: "A lot of blind faith has been applied to the notion that expanding the flow as well as the total stock of graduates in society would act like some kind of elixir, a magic formula capable of translating human capital potential into stellar economic performances across the board.
"Yet nowhere is such a hypothesis supported by the evidence."
The report analyses data which shows that the number of graduates in work 3.5 years after graduating has steadily declined since 2003, while the unemployment rate for those with a skilled apprenticeship is less than 5 per cent
It also shows that almost 40 per cent of global employers cite a lack of skills as the main reason for entry-level vacancies and that countries with lower university participation rates and better quality vocational training systems, like Germany and Switzerland, report lower observed levels of youth unemployment.
Mr Bewick adds: "University education is becoming more expensive across the developed world, student indebtedness is growing, and graduate–level jobs are not necessarily resulting in gainful employment for every former student.
"Meanwhile, the learning-and-earning approach associated with formal apprenticeship models reveals positive data that generally shows higher completion rates, more limited indebtedness for young people, and financial gains to companies."
The report has been welcomed by Association of Employment and Learning Providers (AELP) chief executive Stewart Segal, who said: "We need to improve comparisons between different countries' apprenticeship programmes and any progress on generating effective comparisons would be really helpful.
"AELP doesn't believe though in the wholesale adoption of another country's system and it's better that we build here on our own successful programme."
Read a special 16-page report based on FE Week senior reporter Freddie Whittaker's trip to America and Canada last year with INSSO here.